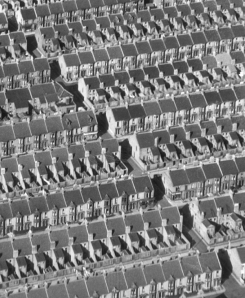 In this week's Observer, I wrote about the former Morgan Stanley mortgage bond trader Howie Hubler, who lost that bank about $9 billion on subprime bets. He's one of the villains in Michael Lewis' new book, where last we see him retiring to New Jersey with millions of dollars and an unlisted phone number.
But it turns out he's now in an office suite in New Jersey, growing a firm called the Loan Value Group, which works with lenders to keep beleagured homeowners from leaving houses where more is owed on the mortgage than the property is actually worth. They do that by offering the borrower a cash reward for paying off their debt. "It is no different from me putting $20,000 in a sack on a kitchen table and saying, 'This is your money,'" Frank Pallotta, the firm's executive vice president, and a former Morgan Stanley banker, told me for the story. "I can't talk through numbers. But we've signed up many. We're live and we're rolling."
I tried to contact Arizona University's Brent White for the story, but didn't hear back from him until after my deadline. Professor White, who published an influential paper last month called "Underwater and Not Walking Away: Shame, Fear and the Social Management of the Housing Crisis," said he had issues with the firm's recently-announced rewards program, which he believes coaxes homeowners "to make what may be an irrational economic decision to keep paying their mortgage when they would be better off walking away."
He said one of the firm's academic advisors reached out to him, and that he told them the same.
I pointed out that Loan Value Group's own Web site says, "Default is rational for many borrowers: While they forfeit their home, they rid themselves of a mortgage liability of even greater value." Professor White was surprised. "Yes, it is interesting that they recognizing that walking away can be a rational decision, yet suggest that homeowners who do so are somehow being irresponsible or immoral. This is especially ironic given the fact that the company is headed by a former mortgage trader at Morgan Stanley, which walked away from five underwater properties that it bought at the peak in San Francisco."
But he also said Loan Value Group's idea, in theory, has some plusses. A few others would be more optimistic. "Loan Value Group has one of the best ideas I've seen in the housing crisis so far," Reuter's Felix Salmon wrote yesterday, "It involves no legislation or government cash, it keeps homeowners in their home, it prevents distressed foreclosure sales, and it benefits both borrowers and lenders."