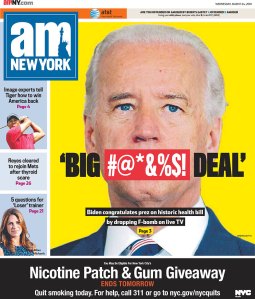 David Greenfield: "We won every single neighborhood in the district."
Greenfield is up for re-election at the end of the year.
The Times called it an "easy" victory for Greenfield.
The Post called it a "stunning upset."
Liberal City Council members will caucus together.
Ed Skyler: "By no means do I see a scenario where significant head-count reductions wouldn't be part of the answer."
John Sampson, Malcolm Smith and Pedro Espada got subpoenaed in the Aqueduct probe.
Jeff Klein sent a curiously worded fund-raising letter to labor leaders.
Rep. Mike McMahon faces a backlash for voting against the health care bill.
McMahon said, "There were no threats."
Rick Lazio will promise not to raise taxes.
Jimmy Vielkind: "State Assembly Democrats have crafted their own version of a spending plan for the 2010-11 fiscal year that nearly halves proposed cuts to education, but includes $2 billion in borrowing."
Jimmy Oddo: "[B]ecause Albany is such a pit of dysfunction … that rolls downhill to us."
Carl Paladino is criticized for saying the health care bill will kill more people than 9/11.
The backstory on how Obama got the health care bill passed.
Republicans still hope to delay the bill.
Rep. Scott Murphy: "most people have decided how to vote before the bill is even written."
Rep. Gary Ackerman yelled "Yes we did."
MTA cutbacks are coming.
Gerald Benjamin supports the Ravitch plan.
Steve Levy took credit for the Ravitch plan.
Hank Sheinkopf hits Levy.
Levy deals with gang violence in Suffolk.
Levy forgot he was on the Working Families Party line in 2007.
The Post criticizes the judge for blocking the 9/11 settlement deal.
Jon Corzine is back on Wall Street, working for MF Global.
Chuck Schumer wants retired space ships on display at the Intrepid.
Kirsten Gillibrand fights against cyber crimes.
Joel Klein is a better bowler than Ray Kelly.
And pictured above are front page stories about Joe Biden's gaffe.