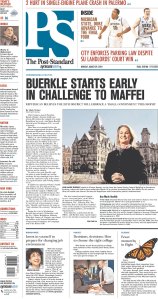 Dede Scozzafava may face a Republican primary.
Rep. Dan Maffei's challenger is an anti-abortion activist who wants to make jobs and health care the focus of the campaign.
Rep. Greg Meeks robocalls in Louisana – where he has some critics – against a Republican who voted against the health care bill.
David Paterson reportedly considers Dick Ravitch a "double agent" working for Sheldon Silver.
Paterson took a swipe at Silver.
Ravitch isn't bothered by what Michael Bloomberg calls him.

How Rick Lazio can win: raise money, call Steve Levy a Democrat, get Ed Mangano's endorsement.
How Steve Levy can win: appear moderate and concerned for taxpayers.
Levy lost a G.O.P. straw poll in Suffolk.
Dan Janison looks at the undercurrent of the G.O.P. civil war.
Republicans expect Levy to campaign against Brian Foley.
Michael Bloomberg may not be too helpful to Albany Republicans, according to "a source familiar with Bloomberg's thinking."
Andrew Cuomo wouldn't release a report on fracking – which he recommends banning – until it was FOILed.

Levy didn't get much legislation passed in Albany.
Rick Karlin yawns at news of a late budget.
Lawmakers will pass extenders if it's late.
Rep. Louise Slaughter talks about the backlash to the health care bill.
Paladino: "It's the liberal elites who are running this state into the ground," and, "The liberal media wants to stop me and the people who demand change in Albany."
Part of why John Flanagan may run for attorney general is fear that he could be re-drawn out of his State Senate district.
Nick Confessore explains why John Sampson sounds like a Republican.
Peter Abate's legislation could protect public workers accused of wrongdoing.
Democrats could talk to Levy about 2011, if Republicans don't back him for county executive.
Tom Golisano is going to court to get the appraisal on his 9,600-square foot house lowered.
Bloomberg joked about not wanting to be public advocate because it wasn't "a real job."
Only 326 licenses for vegetables carts were given out.
What will Ruben Diaz Jr. do now with the Kingsbridge Armory?
Three children in nine days were beaten to death.
Crime is up in a Brooklyn police percent where a whistleblower complained about fudged stats.
A top official at the FDNY has a huge pension.
Two people were murdered on a Manhattan train this weekend.
There's been 103 murders so far this year, compared to 86 the same time a year ago.