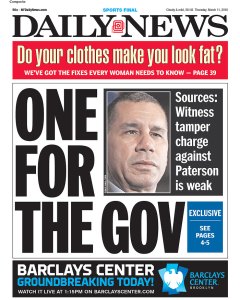 Lovett, Saltonstall and Smith: "Sherr-una Booker told probers she didn't feel the governor threatened her." And this note: "Also complicating things for probers: The governor is legally blind and doesn't use e-mail. Investigators must rely exclusively on witnesses about what message was conveyed to Booker."
A guy on Twitter asks: When will Andrew Cuomo announce his gubernatorial bid?
Don't count on the Aqueduct money just yet.
Michael Bloomberg doesn't like Dick Ravitch's plan.
Ravitch said the state could borrow up to $6 billion.
Ravitch's plan is "radical."
Democratic Assemblyman Robin Schimminger: "The missing elements are either a spending cap or revenue cap."
George Pataki tells Jimmy Vielkind that Rick Lazio will get money, eventually.
Sam Roberts says it's hard being David Paterson's dad.
Alan Hevesi's lawyer denied accusations made by former aide David Loglisci.
Loglisci said he ceded investment authority to Hank Morris, Hevesi's campaign manager.
Campbell Brown's husband considers a Senate run. Michael Barbaro notes: "A Senor Senate candidacy could complicate the work of his wife, whose nightly program on CNN emphasizes its nonpartisan approach to news and politics."
Peter Vallone Jr. wants to ease some police record keeping.
Vallone and Christine Quinn raised "privacy-rights concerns" about the N.Y.P.D.
Steve Levy fights a sheriff in his backyard.
City Hall News plays up Levy's support from Suffolk Conservatives.
Eric Massa lived with staffers.
His complaints about having to fund-raise hits home with freshmen.
Nancy Pelosi's staff was told in October about Massa's inappropriate behavior.
Ira Stoll opposes the soda tax.
Eliot Engel grumbles about health care.
Jason Fink wonders what Eliot Spitzer is up to.
And above are some front pages from today's papers that treat Paterson kindly, bash Ravitch and float Spitzer.