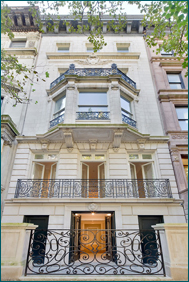 The saga of 26 West 76th Street is finally over! On Tuesday afternoon, the seven-story townhouse (including the basement playroom and rooftop glass-enclosed solarium) went to contract to a mystery buyer at the current listing price of $19.5 million.
Bigwig Bond Street developer Adam Gordon enlisted his trusted Sancho Panza architect ally, Steven Harris, to completely renovate and redesign the Renaissance Revival townhouse. Mr. Gordon bought it in bought in 2006 for $5.6 million, and spat it back out two years later at a listing price of $25 million.
>>CLICK HERE TO SEE PHOTOS OF THE TOWNHOUSE
Shockingly, the price didn't take and Mr. Gordon was forced to switch brokers and sharpen his knives for some price-chopping. Dropped to a more palatable $22.5 million (and then further down to $19.5 million), the nearly 10,000-square-foot townhouse solicited attention from celebrity oglers such as Matt Damon and wife Luciana, as well as from Alex Rodriguez, who, according to the Post came sans entourage to peruse the three powder rooms and "glass-enclosed penthouse atelier." Mid-February, in the same Post article, it was reported that the developer was considering an offer to turn the single-family mega-dwelling into the new Kips Bay Decorator's Show House; two bids from high-flying New York financier family men; and had turned down a request to film a reality TV show at the mansion with a horde of Victoria's Secret models as tenants.
With two kitchens and laundry rooms, a gym, a media room and two terraces—one north-facing, one south-facing—one can understand why the West Side address is described in the listing as, "the ultimate residential masterpiece for the most discerning." The six-bedroom, seven-bathroom, three powder-room abode, listed by Brown Harris Stevens brokers Wendy Maitland and Reid Price, also boasts a planted rear garden. When asked for comment on the sale, Mr. Price told The Observer, "Unfortunately, we're not allowed to comment on it. I wish I could tell you all about it, but the buyer has asked for privacy." (Mr. Gordon also declined to give details, citing a confidentiality agreement.)
Asking for privacy often equals celebrity, but the way egos go these days it could be anyone. We may have to wait for move-in day to find out. Stay tuned.
Slideshow: The $19.5 M. Townhouse
More Manhattan Transfers from Chloe Malle:
A Majestic Departure? Conan Lists His CPW Apartment for $29.5 M.
You're My Loft, Blue! Ferrell Goes to Contract in West Village
La-La's Public Health Maestro Buys N.Y.C. Condo for $2.62 M.