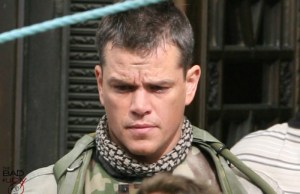 Spring is finally in the air and, apparently, it brought a bunch of movies along for the ride. An overwhelming six titles hit theaters today, meaning as you slowly come out of your winter hibernation, Hollywood is encouraging you to sit in a dark room for two hours. As we do every Friday, here's a handy guide to the new releases.
Green Zone
What's the story: You might not remember this, but back in early 2009, the Iraq war movie that was supposed to vie for Oscar's golden glow wasn't The Hurt Locker… it was Green Zone. The latest collaboration from Matt Damon and Paul Greengrass had plenty of advance buzz, but was bumped from its prime November release date to the not-so-prime month of March, presumably because Universal had such a disastrous 2009; must we remind you of Bruno, Funny People and Land of the Lost? But maybe it was actually moved because the film is a sneaky dud. If the bland "this isn't Bourne, but it kinda is!" marketing campaign didn't confirm that feeling, the middling reviews do. Our Rex Reed says Green Zone is like "outtakes from a much better film (The Hurt Locker)" and that it "should have been made five years ago." That ringing endorsement has us reaching for our Bourne DVDs.
Who should see it: Jason Bourne.
Remember Me
What's the story: Go Team Edward? Robert Pattinson stars in Remember Me, a tale of doomed lovers that gives the Twilight star a chance to prove that he's more than just hair product by allowing him to play the romantic lead in a tale of doomed lovers. Hmm. Lost's Emile de Ravin fills in for Kristen Stewart as his co-star—which would be more fun if she was doing her "Crazy Jungle Claire" routine—but despite mostly bad reviews, we're still kind of interested, if only because of that trailer (thanks to Six Feet Under we'll see anything that uses Sia's "Breathe Me") and reports of a completely out-of-left-field twist ending.
Who should see it: Bella Swan.
She's Out of My League
What's the story: For the record, we've been driving the Jay Baruchel bandwagon since his appearance in Tropic Thunder (take that A.V. Club and the Los Angeles Times!), but even our fandom can't get us excited for the completely generic-looking She's Out of My League. As you can guess from the title, Mr. Baruchel stars as a nerdy airport security guard who meets the girl of his dreams but gets spooked when he realizes she's well above his hotness level. Snore. There's a good chance we wouldn't even watch this thing on Comedy Central.
Who should see it: Justin Long.
Also opening this weekend: Academy Award-winner Forrest Whittaker and America Ferrara star in the Tyler Perry-esque Our Family Wedding; Jon Hamm hops on the big screen in Stolen; and It Girl Zoe Kazan goes all Zooey Deschanel in last year's Tribeca favorite, The Exploding Girl.