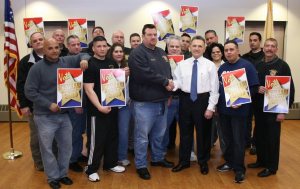 Less than a week after getting jettisoned from the Sheriff's Office by the man whose job he wants, former Undersheriff Frank Schillari received the endorsement of the Hudson County Sherriff's Union PBA Local 334, the union that represents Hudson County sheriff's officers.
"We are endorsing Frank Schillari to be our next Sheriff of Hudson County. He has been our Undersheriff for 14 years – and has shown leadership and dedication to our office. We look forward to working with him — and for him," said Michael Hester, president of Local 334.
Dumped last Friday morning by incumbent Sheriff Juan Perez, who himself was dumped by the Democratic Party, Schillari says he has 33 years of law enforcement experience.
"I want to thank all the wonderful people of PBA local 334, and I am honored to be endorsed by these hardworking officers." said Schillari, who in heavily Democrat Hudson County will run in the general against Perez – now a Republican after a party affiliation change last week.