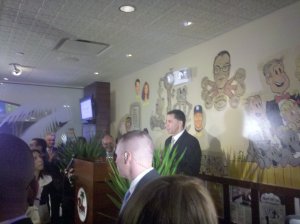 Despite the scandals swirling around him, Governor David Paterson made the trip to J.F.K. Airport this evening to honor the opening of The Palm Bar and Grille at Terminal Four. After some prepared remarks, the governor retreated to a back room for a brief session with the press.
"I am not going to resign," Mr. Paterson said. "To step down from office over unproved allegations would create a new level of vulnerability to government officials that would be chaotic to the people of this state."
Several of the calls for Mr. Paterson's resignation have focused on the potential difficulty of closing a massive budget deficit with an embattled governor. But the governor reiterated how difficult it was for him to assume the office when his predecessor resigned in the budget process.
"I wouldn't want to put that on anyone else unless it is absolutely necessary," he said. "And it is far, far from that."