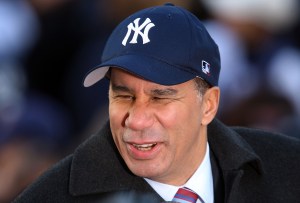 In his testimony to the state Commission on Public Integrity–for which he's now accused of perjury, adding another layer to his mounting woes–David Paterson said he would have preferred not to attend Game One of the World Series, since he can't even see the game from a stadium seat.
Here's the governor's answer when asked to clarify which public officials can be considered "part of the ceremony," as Mr. Paterson claimed he was.
(The answer is somewhat ironic–although perhaps understandable–given that Mr. Paterson has often been criticized for his absenteeism.)
In defending his "official capacity," Mr. Paterson goes on to explain that he also had a bet with the governor of Pennsylvania, that he took pictures with a lot of people while he was there and that bringing his son along was "a nice touch" that was in line with his official duties.
He sums it all up in a relatively expansive soliloquy, which is unusual in the context of one of these depositions, where the game is normally to say as little as possible.