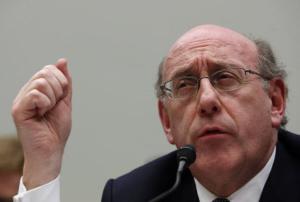 Last March, with Attorney General Andrew Cuomo bearing down on them, the maligned members of A.I.G. Financial Products division agreed to give back $45 million of their $165 million dollars in bonuses.
The actually gave back $19 million–probably because most of them already felt like they had lost a lot of money and didn't think they were to blame in the first place.
With the company set to pay out a mystifying $200 million in bonuses this month, Obama's pay czar, Kenneth Feinberg, came calling. "I am as troubled as Main Street is by the contracts," Feinberg said in February, in an obligatory reference to "regular people."
And today the Washington Post reports that the government will get the rest of that money, likely by docking the bonuses of the ones who hadn't paid anything back yet, though A.I.G. is opting not to comment on how it's paying the money.
So, rejoice Main Street, and try not to think about the $50 billion that A.I.G. still owes on the bailout, after selling most of its profitable units in the last few weeks.