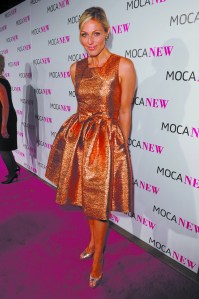 It isn't often that a full-floor apartment comes on the market at 720 Park Avenue, considered one of that drag's top addresses. So when Philip and Susan Sassower listed their 15-room, fourth-floor nest for $33 million in November 2008—the eye of the post-Lehman storm—people took note and wondered if even this Candela masterpiece would suffer in the upheaval's aftermath.
It did.
The price dropped twice, settling at $27.5 million. Now, according to sources with knowledge of the building, a contract has been signed for $22 million, and the buyer is philanthropist-socialite Jamie Tisch.
Mr. Sassower, CEO of both Xplore Technologies and the Phoenix Group, took quite a price cut. According to one reliable source who witnessed Ms. Tisch apartment hunting, the blond Brahmin beauty set her maximum at $22 million, and clearly she stuck to her guns.
Ms. Tisch, née Alexander, is the ex-wife of Steve Tisch, co-owner of the New York Giants and producer of classics such as Forrest Gump and Risky Business (he is said to be the only person to have won both an Oscar, for Forrest Gump, and a Super Bowl ring). The former couple have three children, two girls and a boy. Sources told The Observer that all three children have been accepted to a New York City private school for the fall. The question is whether the redecorating will be done by back-to-school time-because according to many who have seen the apartment, bought by the Sassowers "decades ago," it needs some redecorating. One source put it: "It's a lovely layout but it's tired; it really needs a lift."
Ms. Tisch, who in 2008 opened Fashionology, a design-your-own-hoodie hub in Beverly Hills for tweens to bedazzle at their leisure, splits her time between New York and L.A., but plans to move here with her family this year. When not bedazzling, Ms. Tisch is a high-powered philanthropist, co-founding the Entertainment Industry's Womens' Cancer Research Fund in 2003 and co-chairing this year's Sloan Kettering Spring Ball at the Pierre Hotel, a mere 10 blocks from her new abode.
The apartment has five bedrooms, all with en suite bathrooms, plus three maids' rooms. According to the listing, three of the secondary bedrooms face south over 70th Street, and the fourth "sits quietly on the courtyard of the building with western light" (read: faces a brick wall). The 37-foot gallery opens onto the "baronial" living room with "exquisite crown molding, a wood burning fireplace and intricate parquetry floors." The building has a squash court and a wine cellar.
Brown Harris Stevens' John Burger represented Ms. Tisch; he declined to comment, citing a confidentiality agreement. Brown Harris Stevens brokers Cathy Franklin and Nancy J. Elias had the listing; they also declined to comment.