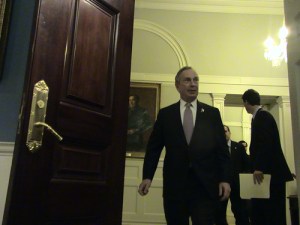 Surprisingly, Michael Bloomberg is not favored to win a fourth term as mayor, according to a very forward-looking Quinnipiac poll:
NEW YORKERS NIX FOURTH TERM FOR MAYOR BLOOMBERG,

QUINNIPIAC UNIVERSITY POLL FINDS;

VOTERS WANT MAYOR 5 – 1 TO LEAD GROUND ZERO RENEWAL

New York City voters approve 61 – 27 percent of the job Mayor Michael Bloomberg is doing, higher than most incumbents in states surveyed by Quinnipiac University, but voters say almost 3-1 they would not vote for him if he seeks a fourth term.

Mayor Bloomberg's 61 – 27 percent approval rating compares to a 61 – 30 percent score February 17, but down from the 70 percent approval ratings he enjoyed for most of his second term. Except for attorneys general, who don't have to make tax and spending decisions, this is the highest approval for any elected official in any state surveyed in 2010 by the independent Quinnipiac (KWIN-uh-pe-ack) University.

Voters favor term limits for elected officials 70 – 22 percent. Asked another way, 55 percent set the limit at two terms; 17 percent at three terms and 5 percent at four terms.

If Bloomberg were to seek a fourth term, New York City voters say 58 – 22 percent that they would not vote for him. Even Republicans say no 47 – 23 percent. Another 13 percent say it depends on who is running against Bloomberg, with 7 percent undecided.

"Mayor forever? New Yorkers gave Mayor Mike a third term but now they say, 'Enough is enough!'" said Maurice Carroll, director of the Quinnipiac University Polling Institute. "On the other hand, about a third say 'yes,' or it depends on who's running against him. So…

"Still, voter support for term limits in general hasn't wavered."

New York City voters disapprove 62 – 23 percent of the job Gov. David Paterson is doing, matching the historic low grades he receives in statewide Quinnipiac University polls. But voters say 65 – 28 percent that he should serve his full term, until December 31, rather than resign.