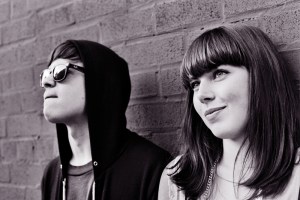 One night in November 2009, at Damon Dash's short-lived Tribeca basement venue, Under 100, Alexis Krauss, one-half of the buzzy Brooklyn noise-pop duo Sleigh Bells, walked up to her microphone stand and stood timidly before her audience. Derek Miller, the band's guitarist, songwriter and beat-maker, was right next to her, bouncing on the balls of his feet, the hood from his sweatshirt pulled over his head, throwing a shadow across his face. Ms. Krauss flashed a bashful look at the audience, flipped her Bettie Page bangs and proceeded to rip the microphone from its stand and begin screaming her head off. Mr. Miller's guitar fought against Ms. Krauss' howl, sounding like a power saw cutting through the drainpipes in the basement. "DEAD CHORDS, DEAD ENDS!" Ms. Krauss wailed during one song. The crowd ate it up.
SLIDESHOW: The Eight Essential Albums of the Season >
With nothing more than a handful of homemade demos under their belts, Sleigh Bells have blasted a reputation for themselves out of the quiet ether of Brooklyn lo-fi. They were among the breakout acts of last year's CMJ Music Festival, and generated even more buzz earlier this month when they played South by Southwest in Austin. A few days before that, news broke that Mom + Pop records would release the group's debut album, Treats, on May 11 in collaboration with N.E.E.T., the label owned by Grammy-nominated hip-hop auteur and Brooklyn resident M.I.A. (Mr. Miller also contributed some production work to M.I.A's forthcoming third studio album.)
But first, "I did disaster relief, I waited tables. I was writing and recording and throwing everything away," said Mr. Miller in a phone interview. "I did that for six years until I met Alexis."
Mr. Miller, however, is no novice. He previously played guitar for the Florida hard-core band Poison the Well. Nor is Ms. Krauss a newcomer. She got her start in a kitschy girl group called Rubyblue before becoming a public-school teacher in the Bronx. The two met in 2008 at a Brazilian restaurant in Williamsburg, where Ms. Krauss was eating dinner with her mother. Mr. Miller was their waiter.
"We just started talking," he recalled.
The band's sound is sugary bubblegum pop from hell. Ms. Krauss alternates between a sweet, soulful croon and a screeching yelp, and Mr. Miller's guitar is even heavier than it was during his hard-core days. Their music is ambitious yet agreeable. One song, "Crown on the Ground," sounds like golden-age hip-hop played by some combination of the Buzzcocks and Meat Loaf. On another, "Ring Ring," the group samples Funkadelic's "Can You Get to That?" infusing it with an even funkier beat and an icy edge from Ms. Krauss' panting vocals. "Have a heart," she moans like a more vicious Debbie Harry before bringing it back to her sugar-pop roots: "Ring ring, call him up / Tell him 'bout the new trends."
Sleigh Bells is now on a U.S. tour that will take them to Webster Hall on May 4, a week before the album comes out. Mr. Miller is pretty laid back about it all.
"There's no pressure from anyone," he said. "It's just about liking music and playing it."
SLIDESHOW: The Eight Essential Albums of the Season >
mmiller@observer.com