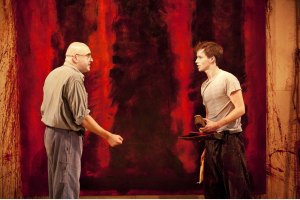 In 1958, artist Mark Rothko received a commission to paint a series of murals for the brand-new Four Seasons restaurant. As visitors to the tony restaurant might have noticed then and now, Rothko's work isn't there on its walls. A new two-character Broadway play, Red, opening April 1, explores why—or does it?
The play, a transfer from London's Donmar Warehouse, where it was widely acclaimed, unfolds in Rothko's New York studio and features a great deal of the physical toil involved in the act of painting (lots of red gets splashed around). It looks at Rothko's working process—but also the struggle between his own art and the aims of the grand restaurant for which he's painting. And while a mystery still exists over what actually happened, Rothko experts say that Red paints a likely, if disputed, scenario.
Playwright John Logan, who is also an Oscar-nominated screenwriter (Gladiator, The Aviator), said: "It seemed an extraordinary act to accept the commission from the Four Seasons. To spend years working on the paintings, then decide not to put them there. I think that's heroic—and Rothko's great act of valor in the play."
Mr. Logan was inspired to write Red after seeing several of the Seagram-commissioned works in London. "When I walked into the Tate Modern and saw them for the first time, I was staggered by their power," he said in an email. "They got under my skin, and I couldn't shake them."
When he began, Mr. Logan said he knew very little about Rothko, a leader of America's postwar Abstract Expressionist art movement. Once he did some research into the artist, who is best known for his now-iconic paintings that seem to pulse with rectangles of color, certain themes began to resonate. As a playwright, one structural element was clear to him, he said. "I almost immediately thought it should be a two-hander play: reflecting the pulsating back-and-forth colors in the paintings. To me, it's always been a father-son play."
The characters in Red are Rothko, played by Alfred Molina, and his young assistant, Ken, played by Eddie Redmayne. In the play, they argue about everything from Rothko's legacy to the rise of a next generation of artists seeking to unseat him to the ethics of his decision to work for the Four Seasons.
Rothko had been at first delighted to take the lucrative commission. The Seagram building, designed by Philip Johnson and Mies van der Rohe, was a showcase for Modernism. And the Four Seasons was already displaying a Picasso, a metallic curtain designed by the Spanish master for a 1919 production of the ballet Le Tricorne. But Rothko (an artist prone to depression who committed suicide in 1970) grew increasingly disenchanted with the restaurant's approach to his work.
His concern may have turned on a seemingly simple matter: display. Rothko believed that how one of his paintings was hung on the wall (generally lower than most paintings are) and how it was lighted were essential to a viewer's experience of his work, said Bonnie Clearwater, former curator of the Rothko Foundation and now director of the Museum of Contemporary Art in North Miami, Fla. For gallery shows of his work, he visualized how the pieces would look in the space, and gave detailed instructions. For instance, he called for "normal" lighting, Ms. Clearwater said, to echo the muted natural light of his studio, which would heighten the drama of the colors on the canvas. For the Seagram works, Rothko envisioned his paintings hanging as a continuous frieze, Ms. Clearwater believes, rather than as individual canvases.
Rothko's circle was certainly aware of his displeasure as the project went on. The late poet Stanley Kunitz, who knew the artist well, spoke about the incident when he was interviewed for the Archives of American Art.
"He was fit to be tied during that whole period," Kunitz said. "In the beginning, of course, he felt complimented because they wanted the work, but when he saw what they were doing with the hanging, he was furious. … He felt his paintings were being treated like decorations, and that all the labor, all the love and all the art that had gone into them was wasted."
However, there's more than one version of what happened. According to the Web site for the Four Seasons restaurant, Rothko pulled the paintings (and also returned the money) when he found they weren't going to hang in an employee cafeteria. Four Seasons co-owner Alex von Bidder said, "I've always been told that he came to check the place out, to have lunch or dinner, and I was told that he said, 'I don't want to have my paintings in a place where only the rich can see them.'" But he added, "There's no definite answer. … That died with Rothko."
According to Mr. Kunitz, Rothko was furious with the way his paintings were being hung. "Somehow they looked insignificant and tawdry where they were. He felt it was all wrong." Rothko's withdrawing from the commission "wasn't just someone trying to be demanding," Ms. Clearwater said. "The work lives and dies" by how it is shown.
After Rothko withdrew his paintings, many of them were shown in 1961, first at the Museum of Modern Art and then at the Whitechapel Art Gallery in London. Years later, Ms. Clearwater found Rothko's written instructions on how the works should be hung and advised the Tate on its installation. Part of the impact of seeing these paintings results from their being displayed according to Rothko's wishes, she said. The tension within the paintings themselves is part of who Rothko was—a visual dramatist, Ms. Clearwater said. Rothko thought of the shapes within his paintings "as performers."
Of course, Red isn't a biographical study of Rothko. It's "a work of drama, not reportage," Mr. Logan said. "I think, however, we represent him fairly and with honor. I feel extremely protective of him. He's a great bear of a character."
editorial@observer.com