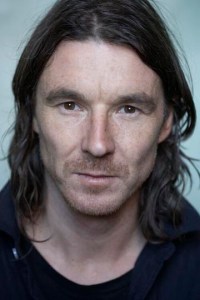 "Did I make mistakes? We all did, yeah," said Neville Wakefield, the 47-year-old curator of contemporary art. "I spent too much time looking at things that were ultimately not very interesting. Few people make good choices in a feeding frenzy."
Mr. Wakefield, a curatorial advisor at P.S.1/MoMA, was talking about the art world of the boom times, when the market for contemporary art was humming effervescently and collectors were so eager to attach themselves to the newest, coolest artists that they'd buy practically anything.
Sitting at a cafe a block away from his home in the West Village this past Sunday, Mr. Wakefield smiled sheepishly as he remembered that recent era, the way someone might about all the pot he or she used to smoke back in college. His denim shirt, worn over the kind of tee people usually sleep in, was rolled up at the sleeves, and his stringy brown hair hung at his shoulders. Speaking slowly and frequently interrupting his remarks with long, contemplative gazes out the window, he cut the figure of a cowboy with a jones for early '90s fashion. The day before, he'd returned from a trip to Squaw Valley in California, where he broke his nose in a gnarly snowboarding accident.
"In the overheated world, it's hard to distinguish between hype and worth," Mr. Wakefield said, in his warbly British accent. "The editing of bad work tends not to happen under those conditions."
The conditions now are different, Mr. Wakefield said, and this spring he will have a chance to show the New York art world what he thinks that means. As a member of the three-person curatorial team behind "Greater New York 2010"—opening May 23rd, it will mark the third time since 2000 that P.S.1 and MoMA have mounted the massive survey of local emerging art—Mr. Wakefield has spent the past year thinking about what artists in this city are doing and how it's different from what they did before.
The last Greater New York show happened five years ago, and was organized by a committee of curators led by Amy Smith-Stewart and Bob Nickas. A sprawling survey that featured work from more than 160 artists, it came along at a particularly exuberant moment for the art business, and was timed to coincide with the opening of the Armory Show. Writing in The New York Times, the critic Michael Kimmelman reported seeing the names of galleries "hastily scrawled in pen" on some of the show's wall labels, "as if the artists, buoyed by their inclusion here, were suddenly snatched up in the interval between printing and pasting up the names."
This year's Greater New York will be much smaller, featuring only about 70 artists. The artist list, which has not yet been announced, was decided by Mr. Wakefield and his co-curators, newly minted P.S.1 director Klaus Biesenbach and MoMA chief curator of drawings Connie Butler, through a process that allowed each participant to nudge a personal favorite into the show but not veto anyone else's out of it. The trio initially tried to make all their studio visits together, according to Mr. Wakefield, but after four months they resolved that coordinating their busy schedules was slowing them down too much. Thereafter they worked independently, and came together only to collate and approve each other's picks. As Mr. Wakefield put it, "Hopefully, there's a productive friction between the sensibilities."
Greater New York may be the biggest platform Mr. Wakefield has ever had to express his curatorial vision, but it is also just one of many projects he has going. His position at P.S.1, he says, is comparable to that of a curator-at-large, and leaves him time to write catalog essays, curate for private galleries—he has done shows for Mary Boone, Barbara Gladstone and others—and supplement his museum income by doing consulting on strategy for luxury brands like Calvin Klein and Adam Kimmel.
In his youth, Mr. Wakefield studied philosophy, and he got his start in the art world primarily as a writer for magazines and catalogs. He became a curator only after Ms. Boone called him in 1998 and asked if he'd do a show for her. After initially resisting—"He said he wasn't a curator. I said, 'If you're a critic, then you can automatically be a curator,'" Ms. Boone said—he agreed, and mounted "View One," a group show of photographers that included Douglas Gordon, Sam Taylor-Wood and Jane and Louise Wilson. Soon thereafter, Mr. Wakefield realized he might actually enjoy being a curator more than being a writer.
"I saw curating as writing by other means," he said. "Maybe easier. Curating for me was a way of getting closer to [artists] than writing, which tended to be at one remove because I tended not to meet the people I was writing about."