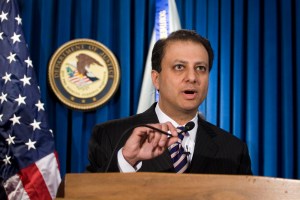 Wall Street was right to fear the phone. Today, the Wall Street Journal reported that the government had a wire on Franz Tudor, a former Galleon trader, even after Raj Rajaratanam was taken into custody last October.
The idea was to catch the reaction of two people–Michael Kimelman and and "Octopussy" Zvi Goffer–who were charged weeks after Mr. Rajaratnam. It's all part of a larger campaign, led by federal law enforcement and U.S. Attorney Preet Bharara, to root out white collar crime with the same aggressive tactics used on street criminals.
How many others were mic'ed up? The Journal says "several cooperating witnesses," but only one has been publicly named.
For now, still better to talk over lunch.