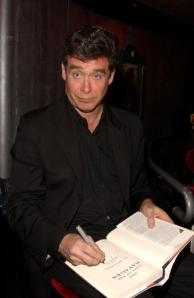 In a long Q&A–with accompanying photographs that shows her lounging in a white shirt next to her child's stuffed animals–John Edwards associate Rielle Hunter tells G.Q. all about how she met "Johnny," how the cover-up with Andrew Young came about, how the National Enquirer freed her but doesn't really deserve a Pulitzer, how she and Johnny haven't actually made wedding plans that involve Dave Matthews. And so on. Politico has pulled lots of quotes for you.
But one of the strangest things about Ms. Hunter's story has always been that she kind of inspired Jay McInerney's Story of My Life, which she brought up.
There's this Jay McInerney book [Story of My Life, narrated by a character based on Hunter, who briefly dated McInerney], and let's correct a part of that right now. In my early twenties, there was a time period when I, in the late '80s, did cocaine. And partied. I was living in New York City.
Ms. Hunter says she wasn't a drug addict, but that, yes, there was a lot of "hooking up" going on. The interviewer, Lisa DePaulo–who has written quite a bit about married people hooking up–was curious.
What was McInerney like to hook up with?
[laughs] I love Jay. Jay is a great guy, a lovely man. To date? That time in my life was a nightmare.
She is much happier now, she says.