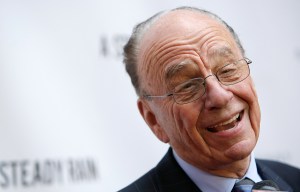 Did you know that Rupert Murdoch–somewhere under his vast News Corp. umbrella–has a business that produces coupons and in-store advertising for grocery stores?
Last month, the company agreed to pay $500 million dollars to settle allegations of anti-competitive practices, reports Bloomberg this morning.
"The settlement kept the spotlight of a trial off allegations that News Corp. employees threatened smaller rivals, destroyed signs in supermarkets and broke into computers to steal trade secrets."
When Sara Lee tried to use a rival coupon distributor, they had to reckon with Mr. Murdoch's "stranglehold," which forced them to pay more to advertise in stores.
In 2003, News Corp. launched "Operation Retailer Freedom"–an attempt to squeeze out rival Floorgraphics, and their pesky laminated floor advertisements. A former owner of Floorgraphics testified that four years earlier, in 1999, he had lunch in Chinatown with Paul Carlucci–who would later become the publisher of the Post. Mr. Carlucci apparently made a takeover offer, which the owner rejected.
"I work for a man who wants it all, and doesn't understand anybody telling him he can't have it all," said Mr. Carlucci, according to Bloomberg's report of the owner's testimony. News Corp. attorneys denied that account.
Floorgraphics also accused News Corp. employees of breaking into their computers. The issue was resolved when News Corp. eventually bought the company.
So tread lightly and safeguard your hard drives, New York Times.