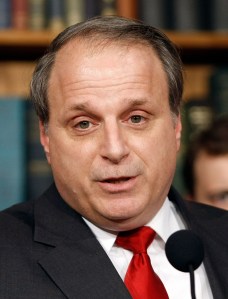 Freshman Congressman Eric Massa declared himself "a salty guy" on a conference call (which was literally full of reporters) this afternoon, but called rumors–Politico is hearing he sexually harrassed a male staffer–"unsubstantiated without fact or backing," according to Roll Call and CQ.
Mr. Massa, who represents the Republican-leaning Southern Tier, barely won his seat in 2008 on a tide of Democratic victories, and decided not to fight a fierce battle for re-election this year.
He was hospitalized in December, and said today that doctors told him he could no longer continue at his normal, "hundred miles an hour" pace. Mr. Massa didn't take questions.