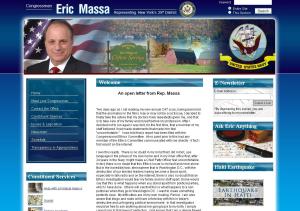 Congressman Eric Massa—who on Wednesday admitted to being "salty" on a conference call in which he did not take questions—has announced he will resign from Congress at 5 p.m. on Monday. The resignation seems to be an attempt to avoid an ethics investigation, following a harassment complaint by a male staffer.
"In that investigators would be free to ask anything about me going back to my birth, I simply cannot rise to that level of perfection. God knows that I am a deeply flawed and imperfect person," Mr. Massa writes in a statement.
That statement currently appears as the front page of Mr. Massa's Web site. Presumably, the link to the right, "Ask Eric Anything," no longer applies.