U.S. Sen. Robert Menendez is in a statistical dead heat with State Senate Minority Leader Thomas Kean, Jr, (R-Westfield), according to a Fairleigh Dickinson University poll released today. Kean leads Menendez 39%-38% in a possible matchup for a 2012 U.S. Senate race.
In a matchup with State Sen. Michael Doherty (R-Oxford), Menendez has a thirteen point lead, 40%-27%.
Menendez, who defeated Kean four years ago by a 53%-45% margin, has favorables of 29%-25%. Kean is at 28%-11%, and Doherty is unknown to 79% of New Jersey voters.
"In 2006, Menendez was able to turn around Kean's early lead by tying him to an unpopular Republican president and an unpopular war," said Dan Cassino, an FDU professor and poll analyst. "This time, he will have to campaign on his own record as a Democrat under a Democratic presidency."
Cassino said that Kean leads 40%-35% when voters are asked about their support for President Obama and health care reform immediately before being asked about the Senate contest. FDU pollsters used a similar barometer in 2006 to determine how President Bush and the Iraq war were affecting support for Kean.
Kean, the 41-year-old scion of one of the state's most prominent political families, has been mentioned as a possible challenger to Menendez in two years. Doherty, 46, is one of the state's most conservative legislators. The West Point graduate supported Ron Paul for President in 2008, and after spending eight years in the Assembly, upset incumbent Marcia Karrow (R-Raritan) in a 2009 GOP State Senate primary.
The Fairleigh Dickinson University poll conducted a telephone survey of 801 registered voters statewide from February 23-March 1, and has a margin of error of +/- 3.5%.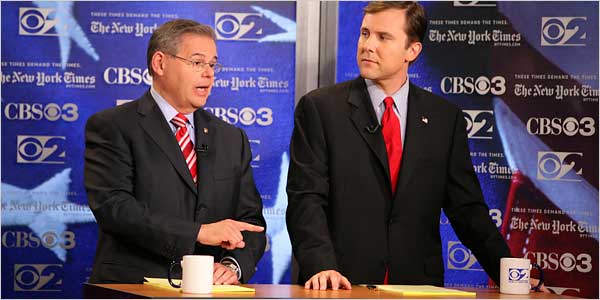 Getty Images Photo