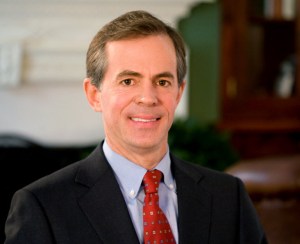 To Fair Haven Mayor Mike Halfacre, Princeton venture capitalist Scott Sipprelle is a "Wall Street insider," a tag line Sipprelle meets with a ready brand for Halfacre: "politically connected lawyer."
In this intensifying 12th Congressional District GOP primary contrest, Sipprelle went on the offensive today with a "Halfacre spreads half truths" piece throwing into question a foundational piece of Halfacre's candidacy: his word – while Halfacre upped the decibel level on Sipprelle's drumbeat of Democratic Party donations.
"Late last week, Mr. Halfacre lied about my 20-year association with the Republican Party and then refused to apologize or even acknowledge his deceit," said Sipprelle. "Enough is enough. The voters understand that a politician who will deceive in order to get elected, will certainly deceive once he is elected. After months of turning the other cheek, it is time to expose what Mr. Halfacre represents – the status quo career politician who is part of the problem in New Jersey and who is incapable of solving the problems in Washington, DC."
Not content to jab, Sipprelle went on a Chris Russell campaign crunch-time jag, objecting to Halfacre's self-characterization as a tax cutter by noting his vote to increase property taxes on the Fair Haven school board, denouncing Halfacre for collecting over $100,000 in taxpayer money from seven part-time public jobs and using those part-time gigs to qualify for a taxpayer-funded state pension.
He hit him on abortion, claiming Halfacre contradicted himself by saying he was pro-choice, then saying later, "I have never said abortion should be legal."
Moreveor, "Halfacre claims to be conservative, but the truth is that (he) has received multiple no-bid, taxpayer-funded municipal contracts over the last decade, while Fair Haven Borough, where he serves as Mayor, has failed to adopt a local ordinance banning pay-to-play; and while he claims to be a social conserative, "the truth is that as a School Board lawyer, Halfacre argued in favor of excluding local Boy Scouts from meeting in public schools, accusing them of discrimination against homosexuals.
"Not only is Mike Halfacre lying about me, but he's apparently incapable of telling the truth about himself," Sipprelle fumed. "From higher taxes and more spending, to multiple jobs and pension-padding, to no-bid contracts and pay-to-play, to saying one thing and doing another, Mike Halfacre represents much of what Governor Christie outlined as wrong with New Jersey politics and government in his budget address yesterday."
There was a brief lull in the action.
Then following up on his revelation this week that "on-and-off Republican Scott Sipprelle" and his wife gave $5,200- the maximum amount allowed by law- to Princeton Democratic mayoral candidate Kim Pimley in April of 2007, Halfacre Campaign Spokesman Tom Fitzsimmons in an email rushed to meet Sipprelle's charge today head-on.
"Self-proclaimed Wall Street insider Scott Sipprelle has been exposed as someone who has consistently given money to Democrats and been less than truthful about it." said Fitzsimmons. "He has also been exposed as someone who has spent a good part of the last 22 years as an unaffiliated voter and not a Republican. He suffered an embarrassing loss at the Middlesex County screening committee vote and he is now desperately flailing about to try and distract voters from the major and legitimate questions about his commitment to Republican principles. Instead of making up things about Mike Halfacre, maybe he should look in the mirror and ask himself why six times out of six, regular people have chosen Mike Halfacre as a better candidate to defeat Rush Holt in November."
Then Fitzsimmons invoked Gov. Chris Christie, leader of the party – leader of New Jersey.
"If we want to talk truth, here's the truth: Mike Halfacre has cut property taxes in Fair Haven using the same principles that Governor Christie outlined in his speech yesterday," Fitzsimmons said. "That's why he has gotten the endorsement of five major New Jersey Tea Party groups and won the Middlesex screening committee vote. Mike will continue to contrast his record with that of his opponent and we have every confidence that people will choose a tax-cutting mayor over a Wall Street insider with a loose relationship to the Republican Party and the truth."