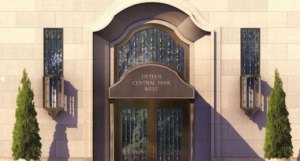 Just when we thought Superior Ink was taking a Seabiscuit stride ahead of it's tonier Upper West Side step-sibling (the lush developments both bear Robert A.M. Stern's signature and have experienced similarly resounding sales success), 15 Central Park West is making a comeback of sorts.
According to knowledgable sources, the merged unit 35AB—combined by current owner, Leroy Schecter, American Strip Steel Company chairman—is quietly on the market for $55 million, one of the most ambitious asking prices ever in a city once full of them. The 5,200-square-foot apartment—that's over $10,000 per square foot, mind you—is listed by CORE Group Marketing's Emily Beare. It has 14 rooms, eight of which are bedrooms.
Mr. Schecter, who bought apartment 35A in April of 2008 for $10.4 million and then scooped up 35B for $8.5 million two months later, has since been renting out the units separately, also through Ms. Beare. In April of 2009, a Wyatt Earp-style showdown over the larger of the two ensued between Yankee slugger Alex Rodriquez and ex-Cendant CEO Henry Silverman. A-Rod was angling for the $40,000-a-month three-bedroom but before he had time to decide, the former Days Inn and AVIS Rent-A-Car owner and his personal trainer girlfriend swooped in. Ms. Beare then told The Observer of the debacle, "It was just unfortunate; I sort of felt bad about everything." However, wound-licking aside, A-Rod settled for the two-bedroom next door at the bargain of $30,000 per month. And for a while, everything was comfy cozy at the O.K. Corral.
Today, the Post reports that the majestic townhouse on West 76th Street that recently closed for nearly $20 million was bought by none other than Mr. Silverman and his new leading lady, whom he met in line at Starbucks before telling her, "Google me" and handing her his card. Ms. Beare did not return requests for comment.