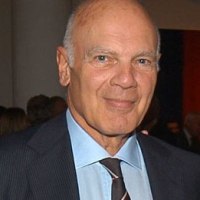 Without a doubt, one of the more intriguing, bull-headed, coarse-spoken figures on the New York City real estate scene is Steven Roth.
Chairman of giant REIT Vornado Realty Trust, he avoids the media—Vornado's press strategy is to decline comment on most everything—and yet is tremendously candid and hyperbolic in the uncommon moment when he opts to make a public appearance, be it a call with investors or an occasional panel.
All of which made it ever more the treat Wednesday night when Mr. Roth went up to Columbia's Graduate School of Architecture, Planning and Preservation to deliver a lecture.
In a sprawling, two-hour talk, with some questions moderated by Vishaan Chakrabarti, director of the school's real estate development program, the articulate Mr. Roth carped about his regret in recent years ("I bought cheap as opposed to buying the best—the cheap got to be expensive, but the best got to be ridiculously, stupidly expensive"); explained his theory on management with a strong single leader at the top ("Shit goes downhill"); and admonished aspiring developers to have patience and a sense of caution, qualities often not associated with many in the world of New York real estate.
Patience, of course, is one of the words first associated with Mr. Roth, at least in terms of development. This reputation comes from his experience in building the Bloomberg LP tower at Lexington Avenue and 59th Street on the former Alexander's department store site, which for years in the mid-'90s sat vacant with no clear plans to develop.
Mr. Roth, who bought Alexander's in large part for its real estate holdings, offered his take on his reticence to build, and why he let the site sit empty for so long:
The New York newspapers, he complained, said "I couldn't make a decision; I didn't know what I wanted to do.
"Bullshit. I knew exactly what I wanted to do. I wanted the price to go up. A lot. And I was willing to wait because I had almost no basis in the land."
There was another plus to waiting, he noted, offering a refreshingly candid developer's take on one way to pursue government subsidies:
"My mother called me and said [of the site], 'It's dirty. There are bums sleeping in the sidewalks of this now closed, decrepit building. They're urinating in the corners. It's terrible. You have to fix it.'
"And what did I do? Nothing.
"Why did I do nothing? Because I was thinking in my own awkward way, that the more the building was a blight, the more the governments would want this to be redeveloped; the more help they would give us when the time came.
"And they did."
Laughter followed.
It's not clear from a quick search just what incentives Mr. Roth received. In the run-up to building the tower, Bloomberg LP was granted $14 million in retention incentives from the Giuliani administration, but later withdrew the request.
(Mr. Roth also offered a similar take on getting approval from City Planning Director Amanda Burden, who is heavily focused on design, often irking developers. Of a new mall in Rego Park, he said, it is "tomato-colored, thank you Amanda Burden. I didn't give what shit the color was so long as I got the approvals to build.")
Mr. Roth bemoaned the failure of his dream for a redeveloped Penn Station, one that would have moved Madison Square Garden to the rear of the neighboring Farley Post Office. The tremendously complex deal would have created a new Penn Station on the MSG site, expanded it into the Farley building as well, and unlocked more than 6 million square feet of development in a bid to completely remake the area. Over $14 billion in total development was envisioned, but the deal collapsed as Governor Spitzer left office in 2008.
"It just broke our hearts," Mr. Roth said. "Every time you go into Penn Station you should be a little bitter. Spit on the floor."
As for current projects, Mr. Roth did not talk about what Vornado might buy (he was cagey when asked about General Growth Properties), although he did speak of the plans to build a Richard Rogers–designed tower over the Port Authority Bus Terminal, a deal he has been negotiating for years with the agency.
Putting up a glimmering rendering of the building, he described it as "something that will never, ever get built."
He later was a bit less brash on the topic, and expressed great interest in staying with the project.
"It's a great building that deserves to get built," he told me. "We're desperately trying to do it."