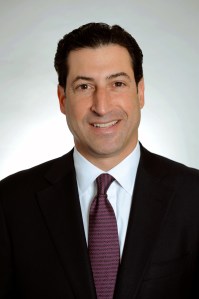 Studley has promoted four senior managing directors in the firm's midtown offices to executive managing director positions, it was announced.
John Mambrino, 46, will serve as both executive managing director and a principal following 20 years of employment at the tenant advisory firm. An active member of the Real Estate Board of New York and a graduate of Villanova University, Mr. Mambrino will continue to specialize in developing and implementing strategic plans as well as providing tenant representation to clients such as Giorgio Armani, K&L Gates and Lukoil, according to a press release issued earlier this month.
Howard Simson, who served as a broker at Cushman & Wakefield before being hired at Studley in 2006, will also take the reins as an executive managing director. Mr. Simson, 55, has represented clients as varied as Ross Stores, the American Language Communication Center and investment firm AXA Rosenberg, among others.
Erik Schmall, a 15-year Studley veteran will continue to represent clients primarily from the so-called FIRE sectors as an executive managing director. His work on behalf of the Willis Group as well as the German government and the State of New York will make Mr. Schmall, 44, an integral player at the firm's New York office.
David Providenti, 40, joins his colleagues as an executive managing director after seven years with Studley. An attorney admitted to practice in New York and New Jersey, Mr. Providenti has worked on behalf of Western Digital Technologies, Comcast and Pacific Life, among other clients.