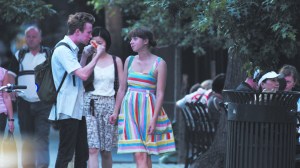 THE EXPLODING GIRL
Running time 80 minutes
Written & Directed by BRADLEY RUST GRAY
Starring ZOE KAZAN, MARK RENDALL

1 Eyeball out of 4

Zoe Kazan, the granddaughter of legendary director Elia Kazan, is the newest Flavor of the Week. Although a great deal more overrated and less attractive than most, she is suddenly all over the place-most recently as Meryl Streep's youngest daughter in the comedy It's Complicated and currently as the wacko crook chained to a radiator in a seedy hotel in the Broadway hit A Behanding in Spokane, and as a morose, sad-sack college girl in a slow, empty, inconsequential little low-budget film called The Exploding Girl. Without that family name, one wonders if she would be so steadily, gainfully employed.
In The Exploding Girl, she plays Ivy, who comes home to Brooklyn for the summer pining away for a boy back at school named Greg, who breaks up their already tentative relationship via cell phone, leaving Ivy more despondent than usual. Another school chum, Al (Mark Rendell), is such a dork that his parents have rented his room out to a stranger, forcing him to stay with Ivy and her mother. Ivy is an epileptic. Al is a bore. She cries a lot. He smokes pot and hangs out at the library, delivering a lengthy lecture on biology. It is only a matter of time before she has a seizure, the two platonic friends turn loneliness into love, or both. In the 80 minutes it takes to find out, I'll wager most viewers will be on the verge of a fit themselves.
This is another dreary collaboration by husband-wife team Bradley Rust Gray and So Yong Kim (Salt), who have no idea what to do with a simple narrative. Ivy and Al lie around in the park staring at the sky and listening to the cacophony of buses, taxis and police sirens that sound noisier hitting summer potholes than at any other time of the year. They share a slice of pizza on a crowded street. She goes to a party where the other guests pass a joint around while she sits on a sofa like a wallflower in training, staring into space. (There's a lot of staring into space in this movie.) She goes to the laundromat, and she watches with maddening disinterest as her mother prepares a salad. They play cards. Spending more time with each other than expected, Ivy and Al cannot express the building tension between them, so they end up watching pigeons on a rooftop at sunset. The acting is deadly, relying solely on facial expressions, and the minimal dialogue is mumbled at a whisper level so low that even a cat couldn't hear it. Elia Kazan must be turning over in his grave.
As far as I can surmise, this tedious movie is about the tentative relationships and unformed goals of naïve, wistful and overly pensive 20-somethings in perpetual transition, without the presence or guidance of caring adults as role models-not an interesting subject unless the kids actually do or say something worth remembering besides smoking a cigarette and staring nonchalantly into space. It's called letting your characters find themselves. My advice: Give them something to do. You could plant nasturtiums in the pauses between sentences.
Nothing ever happens, but heading back to school when summer ends, Ivy and Al finally touch. There is hope on the horizon for the lost, love-starved and emotionally limited. There is no hope on the horizon for movies as leaden as The Exploding Girl.
rreed@observer.com