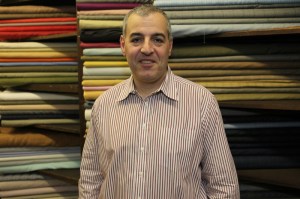 Shortly after 10 p.m. on a recent Wednesday night, Vahram Mateosian, the 41-year-old proprietor of the legendary custom suit shop Mr. Ned on Fifth Avenue, received the following email:
"Dear Vahram," began the inquiry. "I am looking for a new tailor and was wondering whether you can make a suit along the following lines: Single breasted, 1 button; Conservative, but reasonably shaped with suppressed waste; Soft shoulders with limited padding and a bit of roping; High armholes; High notch lapel collar; 4 working sleeve buttonholes; full canvas lining; hand stitched lapels; and waist adjusters on the pants."
What passes between man and tailor is traditionally sacred, and Mr. Mateosian would only allow that the author of this missive—one of a number offered as evidence of a curious shift he's observed in the city's fashionable men—appeared to be in his 30s and lived in New York. He might have made a note of the fellow's profession had there been anything out of the ordinary about his request.
"I received the two pairs of pants tonight. Everything looks good, but I have one change I'd like to make," reads another piece of forwarded correspondence, this one dispatched at 10:33 p.m. on a Tuesday in mid-January by a dandy by the name of Jon. "I'd like them a bit more tapered in the lower leg (from knee to ankle). Currently the ankle measures at 9 1/4 (18 1/2 total), which swallows up my shoes a little (I wear a 8 1/2 – 9 shoe). What ankle measurement would you suggest?"
'It's hard to be a jerk in a custom-made suit.' —Saxophonist Jason Marshall, client of Mr. Ned's Vahram Mateosian
Open since 1965, Mr. Ned is one of most popular custom tailors in New York, running at a clip of about 40 suits a week, but Vahram said he only began getting these kinds of highly specific sartorial instructions about two years ago. "It's become almost normal," he said. "I get emails like these every day."
But whatever does it mean?!
From the confines of a swivel chair behind the desk tucked into corner of his no-frills mini-factory, the tailor shrugged his broad shoulders. "It makes my job easier," he said.
RECESSION OR NO, the bespoke suit, once a special privilege of the very rich (it typically costs $2,000 plus three fitting sessions), has gained a toehold among the upper-middle class. A sort of Men's Warehouse of made-to-measure suits called My.Suit just opened up two stores in town, offering suits for $495 a pop! (In this case, "made-to-measure" means you hope the factory will interpret the measurements properly and you'll like what you see when it comes back from Indonesia. It's not a custom suit, but it's close enough to keep the promise of the bespoke renaissance alive.)
Mr. Ned is something different. Vahram is perhaps best known for outfitting the director Wes Anderson, but the bulk of his clientele is still bankers and, to a lesser extent, lawyers, as was the case in 1964, when his father, Nuran—who went by Ned—began selling suits door-to-door in the evenings, after putting in a day's work as a fabric cutter. Nuran eventually built his name as Wall Street's best-kept secret. Quality custom tailoring, at affordable prices—shhhh! Affordable for Ned means $850—about what it costs for a decent suit at Brooks Brothers—for a two-piece cut of the cloth he keeps in stock. It is true that Mr. Mateosian's handiwork is now reaching far beyond the world of finance, but he's hoping the unprecedented shift in the way his clients talk is reflective of an enthusiasm that will result in a more significant return. Still, it's nice to see new faces: architects, bar mitzvah, the children's musician Dan Zanes!
SLIDESHOW: Inside the Mr. Ned Atelier >
The saxophone player Jason Marshall, 26, a rising star who cites Miles Davis as a style influence, began getting his suits from Mr. Ned about a year ago, partly because of admiring P. Diddy's former valet, Fonzworth Bentley. "There's definitely been a movement towards taking a more serious interest in your appearance," Mr. Marshall said. He sees it in the other musicians he plays with, many of whom he's referred to Mr. Ned. "The thing about dressing up and looking sharp before you leave the house … It's hard to be a jerk in a custom-made suit."
(Clearly, Mr. Marshall has not been watching Mad Men. His sentiment is nice, but it's pure nonsense.)
Michael Goody, a 33-year-old finance man, gave Mr. Ned a shot after an article about his services to Mr. Anderson pricked his nostalgia. "I grew up watching my father argue with his tailor," he said. Mr. Goody recently got a purple tweed blazer made as an homage to one his grandfather wore.
Ridiculous (or completely awesome) as a purple tweed might sound, Mr. Goody couldn't care less. The trends may have helped fan the sails, but the anchor of family tradition keeps him from feeling crazy when staring at mensstyleforum.com past bedtime. Even his wife makes little jokes about his sexuality, but Mr. Goody is comfortable with his passion for wide-lapeled coats with one button—and, yes, a reasonably suppressed waistline—to accommodate his breadth.
MR. MATEOSIAN MAKES suits for these young turkeys, but he doesn't live in the city they exist to conquer. Instead, he resides in rather leafy Bergen County, N.J., not far from where he grew up, with his wife, whom he met in high school, and their two dogs. On weekends he plays in a soccer league on a team consisting mainly of men who are, like him, of Armenian descent.
Custom tailoring already had begun inch-worming its way out of the province of old boys and prodigal sons to the high ground of hipness when Nuran handed Vahram the business 10 years ago. It was right around that time that NBA power forward Charles Oakley became a customer, ordering 100 different flamboyant varietals in three years alone. Mr. Oakley turned the sports world into a four-button snow cone, with a steady stream of assists to Mr. Ned's business.
"Rest assured," Vahram assures new clients on the Mr. Ned Web site. "I personally have over 15 years experience in making custom made clothing." He bares little resemblance to the impeccably attired Jeeves-type characters that swish about the lush carpets in the back rooms of Paul Stuart and Jay Kos. Also: There is no carpet on which to swish.
It's a simple space, four walls that look like they haven't been painted since the business started, utterly devoid of polished mahogany moldings or sumptuous leathers chairs. The sweatshop in the back adds a different kind of flavor. The front is all piles of fabric. The Spartan surroundings confer an intoxicating aura upon the wooden pedestal facing a giant mirror and the plentiful bounty beyond, including 20 different blue varietals and enough patterns to make a man keenly aware of the power of his own vanity.
It's an exhausting business. Nuran, 76, now spends as much time as possible fishing at his vacation place on the North Fork.
"Men's suits don't ever change, really," he said. "It's either one button or two buttons, double-breasted, single-breasted, one vent or two vents."
Nuran was being modest. He knows all too well that a custom tailor's real challenge lies in the fabric between the buttons and the vents. But tailoring, to his mind, was the province of the poor and uneducated. "I never thought my son would choose to be a tailor," he said.
In college, Vahram studied business, but soccer was his passion. After a few years futzing around in real estate, he asked his dad if he could give Mr. Ned a shot. He liked being in the shop and learning the craft. It wasn't until a year or two later when he discovered the intense emotion that a nice-fitting suit can bring about in a man.
The younger Mr. Mateosian wound up putting a ton of miles on his Dodge Caravan to accommodate Mr. Oakley's latest whim. Now Vahram drives a Mercedes S500, 40 minutes each way to and from the city. "I don't have kids, so I spend it on me and my wife," he said. "I love it. I love the car. I absolutely love it."
He also loves seeing the transformation that takes place when a certain kind of man puts on the suit made for his precise measurements. But Vahram is not that man, nor was his father. He was brought up with a culture strong enough to withstand the tides of fashion that currently has droves of metrosexuals feeling betrayed by their hair gels and Equinox membership cards and frantically trying to find that traditional yet more tailored look. Therein lies a legitimate problem: Not all shapes and sizes can be found on the racks, and it's not easy to fashion a ill-fitting suit into one that fits like a glove.
Vahram now believes that Mr. Anderson's 2001 movie, The Royal Tenenbaums, manifested a new frontier in men's fashion. He says that when the director told him what he wanted, he spoke frankly, as Vahram always does. "I told him I didn't think it was going to work," he said. "But when he put it on—he proved me wrong. I love it when that happens."
SLIDESHOW: Inside the Mr. Ned Atelier >
editorial@observer.com