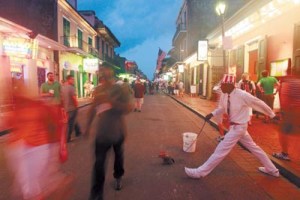 Before Hurricane Katrina trounced New Orleans in 2005, the laissez-does-it city was a place not unlike Key West, a harbor, often, for lackey expats to get drunk, live cheaply and scribble bad poetry. "New Orleans was a place to hide," Charles Bukowski said. "I could piss away my life, unmolested."
But five years after Katrina, and just before the debut of HBO's upcoming Big Easy drama, Treme, a hearty posse of young Manhattan men, mostly male, white and single, have been setting up shop, once again making New Orleans an expat refuge from the high costs of New York living.
According to the U.S. Census Bureau, New Orleans is the second-fastest-growing city in the U.S., behind New York City. Local business groups say there are more new bars and restaurants in the city than pre-Katrina, and realtors say that for every older professional who moved out of the city post-deluge, two younger professionals have moved in.
I'm one of the new expats. Last summer, I rented a 19th-century, antique-furnished carriage house for $1,100 a month. I lost eight pounds from sweating and bicycling (my only mode of transportation), and wrote a few hundred pages of a novel. Now, my wife and I are shopping for a house.
We're hardly alone.
The Publicist: Jordan Friedman
"I was living on the Upper East Side. My business in New York City had stagnated, dating there sucked, it was crazy expensive and I knew I wasn't getting any younger," said Jordan Friedman.
And so, three years ago, Mr. Friedman decided to change his life and move.
Two days after the Saints won the Super Bowl, Mr. Friedman, now 36, sat in Parasol's, a local bar and sandwich shop in the Irish Channel neighborhood, chomping on a roast beef po-boy, downing it with an Abita beer. The mood, at 11:30 a.m., was festive. A bartender was passing out Jagermeister shots to the crowded room.
Before Katrina hit, Mr. Friedman, who now co-owns a local PR firm, was a frequent visitor to the city. "What was really funny was that during the dot-com and bull market boom, I'd fly down to New Orleans for weekends because even with airfare, it was cheaper to spend time here than to stay in my own hometown. In a way, it was like coming home. People here knew I was one of them. And I am one of them. New Orleans was, to me, the closest you could come to expat living, while still being in the United States."
He now lives in an historic apartment building, called the Orphanage, and pays $1,085 a month—"which is a little pricey by New Orleans standards"—for a 1,000-square-foot space with its own backyard.
"You're either a New Orleans person or not. People here have a very different way of thinking than folks in other parts of the country, particularly New York," he said.
But, he cautioned, "don't let the simplicity of this calculus fool you. People here are not unsophisticated. In New York, I grew up among the wealthiest and most powerful people in the world. And I can tell you, without equivocation, that a large percentage of them are miserable and hate their lives."
The Restaurateur: Sean McCusker

Sean McCusker left his Manhattan magazine job last April in an eBay-purchased Mercedes ragtop, which a friend dubbed "a 1980s coke dealer's car.
"Mr. McCusker, 40, walked a visitor through his gutted, 3,000-square-foot restaurant space, built in 1785, 50 yards from fabled Jackson Square: prime New Orleans real estate.
"I'm hoping not to bring New York down here…by any means. We don't want to be the hot-shit Manhattan thing coming down, because they'll be a bit of a backlash."
Mr. McCusker was living in New York in a $2,900-a-month brownstone in Williamsburg and working as the director of marketing for Complex, when he began to rethink his future. "I was like, I'm pushing 40, and I'm going to live in New York in a one-bedroom apartment for, hey, $800,000 or a million? It didn't really make sense to me anymore. I miss my friends… I just don't miss the lifestyle."
He now pays $1,200 a month for a fully furnished, 1,200-square-foot apartment in the French Quarter, as he looks to buy a permanent home. He gets around mostly by bicycle, to and from his new bar and bistro, called Sylvain.
He considered why he chose New Orleans. "I was at Buffa's Lounge the other day, having a po-boy, when a woman at the bar offered me a bloodied dollar if I would run across the street and check to see if the Porta-Potty was working. That's pretty much par for the course here."