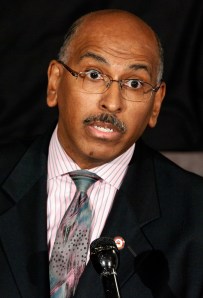 Tucker Carlson's Daily Caller looked at R.N.C. spending records and found bottle service at Voyeur, a West Hollywood bondage club.
The R.N.C. says it wasn't Chairman Michael Steele, and that the committee will get its money back.
Turns out it was a consultant to California Republican Steve Poizner.
Carlson said the story stands.
Meanwhile Voyeur's site is down.
Republican Eric Cantor, whose office may or may not have been shot at, definitely had his life threatened on YouTube.
He also reportedly threatened President Obama, Nancy Pelosi and Harry Reid.
Just in case, the D.N.C. says it will give back any donations from the threatener.
Harry Reid might get some help from a Tea Partier. Or is he a Tea Partier?
Kirsten Gillibrand's approval rating: about where it was nine months ago.