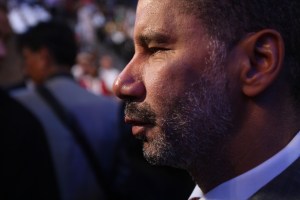 In Hollywood, they say, it can take a lifetime to become an overnight success. In Albany, it can take a lifetime to become an overnight failure.
Governor David Paterson has spent a lifetime in Albany.
Before his six-day-old campaign came to a halt last week—and long before he became Topic A for the New York media—Mr. Paterson's career trajectory seemed to defy physics.
Over 21 years as a state senator, he had the freedom, as a member of the powerless minority party, to build friendly relationships with colleagues and members of the media without facing much in the way of critical scrutiny. Who cared if a Democratic state senator flip-flopped on a bill, or showed up late to work, or had a bit of a thing for the ladies? "As minority leader of the Senate, you're not in position to take responsibility for the decisions you make," one of Mr. Paterson's former colleagues said. One reporter who covered Albany says he kept Mr. Paterson's cell phone number nearby because you "never knew" what he'd say.
"As the [minority] leader, he was always unusual, unpredictable," said Democratic consultant Hank Sheinkopf. "He always did what he wanted. He never wanted to be governor." When Mr. Paterson did become governor, "it was always the same. He always danced to a different drum."
As Mr. Paterson rose to Democratic minority leader, then lieutenant governor, and then finally governor, his erratic leadership style, flippant remarks and casual relationship with the truth grew more problematic for everyone around him.
As a February 2006 Observer profiled noted, Mr. Paterson's official biography had inaccuracies. He didn't grow up in Harlem. He wasn't really an attorney. He didn't pass the bar exam and was never vetted before being tapped to become Eliot Spitzer's candidate for lieutenant governor. In that profile, Mr. Paterson also explained how he opposed the death penalty on moral grounds, a shift from earlier statements in which he said he didn't know how capital punishment could be administered fairly.
It was sometimes hard to figure out what Mr. Paterson was thinking. Weeks before he won a blowout election on Mr. Spitzer's ticket, he told New York magazine he was already considering ditching the job and was feeling alienated and ignored. But a few months later, he was staunchly entrenched as lieutenant governor, defending Governor Spitzer's heavy-handed manner of dealing with Mr. Paterson's former colleagues in the Legislature. "Legislators may not like the methods," Mr. Paterson said at the time, "but they're getting the message the public is paying attention."
That spring Lieutenant Governor Paterson seemed to be rethinking his plans once again, having created his own political action committee, called Paterson for New York. The move seemed to suggest a desire to take over the Senate seat that was to be vacated by Hillary Clinton, who was running for president. "It leaves the door open for possibilities," a Paterson spokeswoman said at the time.
In March of 2008, in the wake of the Spitzer scandal, he was suddenly governor, and there was a general airing out of his dirty past. In his first interviews, Mr. Paterson admitted to having had numerous extramarital affairs—some with women who worked directly or indirectly for him. Soon after, Mr. Paterson said that he'd spent some of his campaign money in prior years on dinners and clothing, unrelated to any campaign activities. Still later, sensing that reporters were onto the story, he went on television and admitted to having used cocaine as a young man.
After that came a series of gaffes. On June 16, Mr. Paterson was apparently caught trash-talking Mayor Michael Bloomberg, creating a splashy front-page story in the New York Post. And then one day before the September 2008 primaries, the governor referred to fellow lawmakers in Albany as "bloodsuckers" for staying late in the Capitol and undoing the good work other people do in the daytime. It led to a Post cover depicting Assembly Leader Sheldon Silver as a vampire.
Assemblyman Richard Brodsky dismissed the remark as a poorly executed joke, but warned that such pronouncements would be taken less kindly if they were to become a habit. At the time, a New York magazine writer described Mr. Paterson's improvisational-seeming leadership style as "jazz government."
When Ms. Clinton resigned her position in the Senate to become secretary of state in January 2009, Mr. Paterson was called upon to appoint someone to the seat.
Caroline Kennedy had been the leading candidate in the media for weeks, but the day after Ms. Clinton stepped down, Mr. Paterson issued a statement saying Ms. Kennedy had withdrawn her interest. Immediately afterward, Paterson aides floated vague stories about tax and nanny problems as the reason she backed away. On January 23, Mr. Paterson selected freshman Rep. Kirsten Gillibrand, angering other candidates in the congressional delegation with more seniority who sought the position. On January 27, Mr. Paterson denied knowing who spread unflattering—and false—information about Ms. Kennedy. Mr. Paterson also declined to investigate.
By mid-February 2009, Mr. Paterson's well-connected spokeswoman, Risa Heller, left the administration. Before the month was over, Mr. Paterson's consulting firm, Global Strategy Group, terminated its contract with him. Soon after, an internal report about Mr. Paterson's tenure as Democratic leader in the State Senate revealed disorganization and ineptitude throughout the ranks. And then, in June, a volatile state senator, Kevin Parker, called Mr. Paterson the "coke-snorting, staff-banging" governor. (He quickly apologized.)
In late July, reports of Mr. Paterson's staying out late at a nightclub began circulating. Mr. Paterson said the reports were inaccurate. It was a restaurant, he said, and he left before midnight.
On Aug. 21, Mr. Paterson went on Errol Louis' radio show and blamed his public-relations troubles on racism in the media. He said that the treatment he was getting was similar to what the media was inflicting on other African-American executives, including Massachusetts Governor Deval Patrick and President Obama.
Then came the president. The administration reportedly sent messengers to Mr. Paterson urging him to bow out of the upcoming gubernatorial race. When Mr. Obama visited upstate New York, he hugged Mr. Paterson in a way that made it hard for photographers to capture the image. Then he heaped praise on Mr. Cuomo, a moment captured in a photograph of the two men smiling and shaking hands, which was widely circulated.
Mr. Paterson's fund-raising numbers in January were abysmal compared to Mr. Cuomo's. In January, Mr. Paterson's campaign spokeswoman, Tracy Sefl, left and was not replaced.
Then rumors about a big New York Times story began circulating.
apaybarah@observer.com