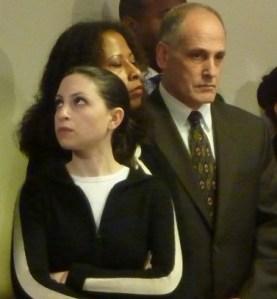 Marissa Shorenstein, 30, is Governor David Paterson's top spokeswoman. Not long ago, at her boss' urging, she reportedly called a woman who had broken up with one of the governor's aides. Turns out the woman was a victim of domestic violence and had been contacted by the State Police, another aide and even the governor.
Now the attorney general is investigating, and Ms. Shorenstein has hired a lawyer.
How did a girl from one of New York's most legendary Democratic families end up here?
In a word: loyalty.
Ms. Shorenstein's parents, Stuart and Janice, are major Democratic donors. (Janice is friends with Silda Wall Spitzer, who has some experience with this sort of thing.) She's worked for Al Gore's presidential campaign; for H. Carl McCall's 2002 gubernatorial campaign; and for the New York Jets. She attended four Democratic National Conventions before turning 30.
The family's history entertained The Times' Sam Roberts enough to write 1,000 words about it.
Mr. Shorenstein is 4 foot 10 and lives in Manhattan. She is, to say the least, intense. At Harvard, she took seven classes a semester and graduated in three years. Then she went to law school. An observant Jew, she used to keep Sabbath until the demands of her job made it impossible. She is almost always at the governor's side, and for more than a year, she woke up at 4:30 a.m. to read newspapers from all over the state, and then read them out loud into a voice-mail system the governor checks each morning.
More extraordinary is that while many aides have abandoned Mr. Paterson, Ms. Shorenstein has not. There's no shortage of campaigns looking for talent, but Ms. Shorenstein has stuck with what is looking like an impossible task: saving the governor from himself.