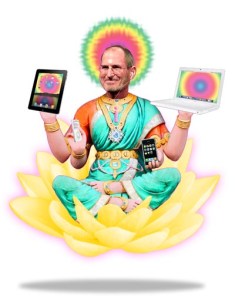 "You want to know one of the dirty secrets of modern life?" said an Apple store employee. "People shoot endless amounts of footage on their fancy video cameras and then they never bother to edit one minute of it. Why? Because it's too hard."
It was a recent Thursday morning, and the staff member—let's call him "Bob"—who had a round face reminiscent of King of Queens actor Kevin James, was standing in the spacious auditorium on the second floor of the Apple store in Soho, delivering a tutorial on iMovie, the Apple video-editing software. He stood behind a podium, facing rows of plush stadium seats, and launched into a story. He said he had a brother, "God love him," who was one of these people, who shot a ton of video but never learned how to edit the stuff. As a result, Bob explained, over the years, he and his family had been forced to watch countless hours of boring, unedited vacation footage. Don't be that guy!
For the next hour, Bob demonstrated the effectiveness of Apple's video-editing software: slicing and dicing some stock vacation footage of a snowboarding trip in Aspen and a day at the beach in San Diego into a snappy little narrative with seamless transitions and a banging soundtrack. Along the way, he used a tool that Apple has dubbed the "precision editor." Everything was so simple, Bob explained, yet also so advanced. He showed off the "Blair Witch" function (which stabilized shaky handheld shots), the Ken Burns effect (which allowed you to pan out from a still shot) and the green-screen tool, which, he said, Jon Stewart uses all the time on The Daily Show.
'Apple is a cult. I've been a member for years.' —Kurt Andersen
Throughout the lecture, people came and went. A scruffy man in a baseball cap napped in the back row. A silver-haired gentleman, balancing a laptop on his knees, took furious notes in the front. Nearby, a student did his Japanese homework. A woman sipped coffee. And a middle-aged man alternated between watching the lecture and reading the Bhagavad Gita.
In the current recession, Apple stores in New York, like Barnes & Noble branches before them, serve as choice workday sanctuaries for the white-collar unemployed—a near perfect place to bask in the buzz of mental activity without any undue requirements of productivity, cost or scrutiny. You can check your email, take in a free lecture, read the paper, all the while enjoying the whiff of self-improvement that swirls through Apple's airspace at 3G speed.
At the front of the room, Bob added the final special effects to his Platonic version of the home movie. It was time to project the movie on the theater's big screen. Sometimes, he warned, this step caused the computer to crash. Not to worry, though. He had saved his work. Bob hit the mouse pad. The computer froze. He spent a few moments tinkering, and eventually got the movie to play. When it was over, a few dutiful Apple students in the front row clapped. "If my brother would just learn to do this, we'd applaud him, too," said Bob.
"We'd ask him to show it to us again and again."
ON SATURDAY, April 3, the Cupertino, Calif.–based Apple is set to introduce its latest life-editing device, the iPad, into our ecosystem. The arrival of the sleek tablet comes at a time when conspicuous consumption is a no-no in New York. (Hello, D.C. pay czars!) And yet the imminent arrival of the eye-catching gizmo, (suggested retail price, $499), has touched off a seemingly citywide bout of exuberance. It will save publishing! Free us from the tyranny of the keyboard! Make the subway fun! All this before we've even so much as tickled a tablet.