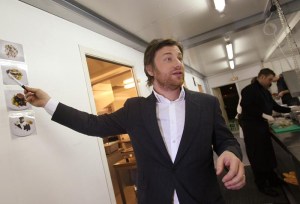 We bossy Brits are totally unstoppable. We love nothing more than to invade other people's countries and then attempt to save the inhabitants from themselves and their nasty habits. It's just what we do.
Last week blokey celeb chef Jamie Oliver flew round the U.S. ranting at people about their 'orrible eating 'abits, while promoting his new ABC show, The Food Revolution. Though I applaud Jamie's efforts to prevent folks from munching themselves into an early grave, I think he could save himself a lot of shlepping and hectoring simply by adopting the Terry Doonan Method.
Let's go back half a century: When the first fast-food burger joint opened in my hometown back in the early 1960s—it was a Wimpy!—my sister and I expressed interest. We were mesmerized by the groovy graphics, the rouge Formica and the nifty light fixtures.
"Why would you want to eat that muck?" said my dad, Terry, with an appalled expression on his face. "It's all made from donkey dick." As regular weekend equestrians, my sister and I were more than familiar with the horrors of both horse dick and pony dick. Donkey dick? It sounded so much worse. Even the Oliver Twist school lunches that we endured seemed infinitely preferable. Uccch! We were totally turned off. To this very day, I cannot walk past a fast-food joint without hearing a loud, braying sound in my head. Jamie, take note: Thanks to Terry Doonan and his donkey dick aversion therapy, I have never eaten fast food, and I never will.
If it's any consolation to the fast-food conglomerates of the world, my dad's skepticism about the origins and quality of food extended to posh restaurants. When, in later life, we dined together, he would always greet the announcement of the daily special with a dark conspiracy theory: "Chicken tandoori? They probably found some rotting breasts in a bucket out the back and are attempting to disguise the putrefaction with a handful of curry powder." Bon appétit!
As Mr. Oliver was inciting his food revolution, I was flying round the country inciting a revolution of my own: a shoe revolution. I was zipping from Barneys to Barneys counseling/badgering customers about which shoes they should buy this season.
Upon reflection, I see that Jamie and I had overlapping missions. Though buying the right shoes will not raise your food consciousness, it can definitely help you lose weight. Here's how:
1. Starving yourself to save money in order to pay for those Pierre Hardy gold metallic porno pumps can definitely make you thinner.
2.Wearing a Givenchy or Derek Lam gladiator sandal will not make you thinner. Au contraire: It may well make your legs look fatter. But, acting like a gladiator—all that shrieking and flailing about—will surely burn up some calories.
3. Consuming Chloe, Louboutin or Miu Miu wedges is definitely more figure-enhancing than consuming wedges of chocolate bundt cake a la mode.
4. The new wooden platforms by Celine are great for crushing organic garlic, which is very healthy and better for you than eating beef jerky.
5. Floral details! This is the season of the foot corsage. Everywhere you look, there are fabulous shoes adorned with big fluffy flowers. My fave: the Manolo "Patricia." These horticulturally inspired enhancements are perfect for camouflaging chubby toes.
Re donkey dick:
I have a horrible feeling that it's only a matter of time before some rustic, offal-loving über-chef will introduce artisanal, organic, locally harvested donkey dick as the delicacy du jour! Donkey dick pâté, anyone?
sdoonan@observer.com