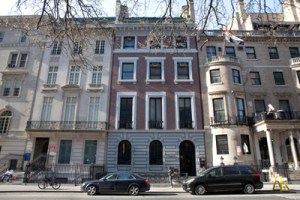 When Mayor Bloomberg spurned the mayoral Gracie Mansion in 2002, electing to remain in his own private residence, his five-story Beaux-Arts townhouse on East 79th Street was added to a list of "sensitive buildings" kept by the Police Department's Intelligence Division and Counterterrorism Bureau, and the house's documents were disappeared to public-record nowhere land. Also added to the list was another building: the townhouse next door, into which the mayor has been quietly but steadily expanding. Now at an estimated 12,500 square feet–not counting the buildings around the corner deeded to his charitable foundation–the residence of the world's 23rd richest man has been called more mansion than townhouse.
The transformation was perhaps inevitable on a block that has long been famous for amassing the mansions of millionaires (and later their billionaire progeny). The stretch of East 79th Street was once known as the "Cook Block," named after its original mansion-builder Henry H. Cook, who accumulated his fortune in the railroads. Cook bought the entire block, then barren, in 1880; built his mansions; then bided his time until the real estate was ripe for the coming of more millionaires.
Over a century later, they keep coming.
SLIDESHOW: The Story Behind the Block's Most Notable Buildings >
egeminder@observer.com