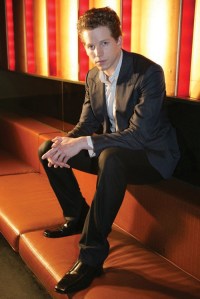 Stark Sands probably never thought of himself as a casting director's go-to choice for a young GI. But take a glance at the 31-year-old Dallas native's résumé and a pattern emerges: He's played military men in Flags of Our Fathers and HBO's Generation Kill, and in 2007 he garnered a Tony nomination for his role as a second lieutenant in the revival of the World War I drama Journey's End.
Mr. Sands' latest role, the rebellious teen-turned-soldier Tunny in the new Broadway adaptation of Green Day's 2004 album American Idiot, is a different sort of military man. "They wanted it to be a very angry, very angst-fueled sort of middle-class kid who's lost and doesn't know what he's looking for-and I always play the boy next door, the sort of earnest innocent," Mr. Sands said over lunch, on the day of American Idiot's first preview (the show officially opens April 20 at the St. James Theater). "I really had to convince them that I could do it. The tattoos help."
Ah yes, the tattoos: For the past three weeks, Mr. Sands-an otherwise freshly scrubbed-looking fellow-has had 10 of them scattered across his torso and arms. "They're all fake, all of them," he explained, before cataloging them: There are the fairly standard ones-a skull, a snake, a wolf, a symbol of the punk band Black Flag-while others are more personal. "This is my girlfriend's name," Mr. Sands said, gesturing to the word "Gemma" written in elegant script on his left bicep. "I specifically was like, 'If I'm going to make my girlfriend put up with 10 tattoos for however long I do this, I've got to get her name.'" (He and Gemma, a British journalist, met cute: "I was in London on holiday," Mr. Sands said. "That's a very British term, 'on holiday.' Also a Green Day term, incidentally!")
American Idiot's plot, the brainchild of director Michael Mayer (Spring Awakening), follows the general outline introduced by the album-a dissatisfied youth, "Jesus of Suburbia" (John Gallagher), ditches the suburbs for the city, discovering girls and drugs but failing to find fulfillment. Mr. Sands' character, Tunny, is not featured on the album but was introduced for the show. The angriest of the three leads, Tunny accompanies Jesus of Suburbia to the city but soon enlists in the Army, where he eventually loses a limb and gains a sexy nurse girlfriend. American Idiot's heavy dependence on its source material ensures that it will likely find more appeal with Green Day fans than theater snobs; luckily, Stark Sands is both. "When I heard that there was going to be a Green Day musical," Mr. Sands said, "I was like, 'Sweet.' I have been [a fan] since Dookie, since my teenage years. I identify with this music from when I was a teenager," he said, and then paused. "And I'm not a teenager anymore."
In fact, it's been 13 years since Mr. Sands' acting career began. He credits his mother's sister with stoking his interest in performing; the summer before he started high school, his aunt suggested he try out for a talented-and-gifted theater class. "My mom was like, 'You should go in and audition for this. All you have to do is read a monologue.' And I was like, 'Monologue? What's that?'" Mr. Sands said. "I couldn't think of what to do, because I had never read a play before. So I brought in the back of a cereal box and I read that."
To hear Mr. Sands tell it, his first role, in The Sound of Music, was not a success. "I was little Kurt, the youngest boy, who's supposed to be like, 'I'm incorrigible!'" Mr. Sands said. "But I'd hit puberty, so I'm a little bit taller than the girls who are supposed to be older than me and I'm all-" he said, gesturing to his face with a painful look, "-pubescent."
Mr. Sands went on to pursue a B.F.A. in acting from USC, and began acting professionally soon after graduation, when he landed a role in Six Feet Under. Though he worked steadily for the next five years, he considers Journey's End to have been his real break in the business. "The show was about four soldiers, and I'm one of the four," Mr. Sands said of the experience, "and the other three are Tony winners and movie stars, and they've become my best friends." He added that he still crashes on Boyd Gaines' couch occasionally.
Having played military men on so many occasions has had an effect on Mr. Sands: "It's definitely crossed my mind," he said when asked whether he'd consider joining the armed forces himself. "I wonder sometimes. I don't think of myself as a tough guy," he said, before pausing thoughtfully. "I have to play one in this, so we'll see. Hopefully I can be convincing."