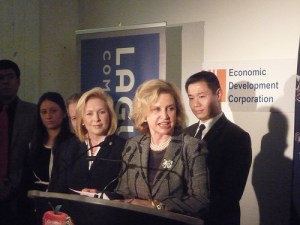 8:30 a.m., Steve Israel helps Dave Obey raise money in Hauppauge.
10:25 a.m. Rick Lazio calls in to the Brian Lehrer Show.
10:30 a.m. Christine Quinn joins Joel Klein to celebrate "Respect for All Week" at P.S. 24 in Brooklyn.
11 a.m. David Paterson hosts a town hall meeting about the state budget at Brooklyn Borough Hall.
5:30 p.m. Cory Booker has a fund-raiser at Michael Bloomberg's home.
6 p.m. House Speaker Nancy Pelosi raises money on Franklin Street.
6 p.m. Kirsten Gillibrand raises money at Shelley and Michael Carr's home.
6 p.m. New York State Conservative Party hosts a state legislative reception in Albany. Expected attendees include Rick Lazio.
6 p.m. Ned Lamont is in town raising money.
6 p.m. Steve Israel hangs out with DL21C on Fifth Avenue.
6 p.m. Senate candidate Robin Carnahan of Missouri has a fund-raiser in Manhattan.
6:30 p.m. Rep. John Barrow of Georgia has a fund-raiser in Manhattan.
7 p.m. Carolyn Maloney hangs out with "New York's Youth Leaders" at The Forum.
7:30 p.m. Michael Bloomberg talks at the Brooklyn Historical Society Dinner, on Pierrepont Street.
8:30 p.m. Bloomberg accepts the Golden Mike Award from the Broadcasters Foundation, at The Plaza.