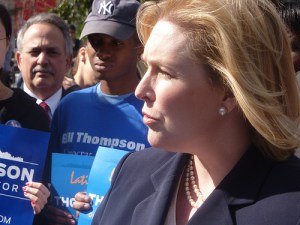 9:30 a.m. Fred Dicker's radio show starts early, and features Randy Credico.
11 a.m. Michael Bloomberg has a Q&A on 227 West 42nd Street.
12 p.m. David Paterson fills out his census form at Hunts Point Avenue and Sourthern Blvd., the Bronx.
5:30 p.m. Anthony Weiner headlines a fund-raiser organized by VoteVets.org, at City Hall Restaurant.
6 p.m. Steve Israel has a fund-raiser, in Old Bethpage.
6:30 p.m. Jimmy van Bramer hosts a town hall meeting, at 54-22 Skillman Avenue, Woodside.
7:30 p.m. There's a town hall meeting, at 202-30 Rockaway Point Blvd., Queens.
8 p.m. Kirsten Gillibrand raises money at Branch, on East 54th Street.