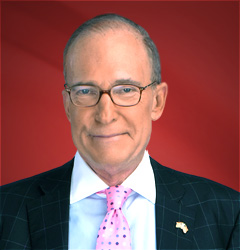 Weirdly, it's Chuck Schumer's Senate race–the one that pits any potential challenger against a powerful, extremely well-funded, reasonably popular, two-term incumbent–that keeps getting more entertaining.
First there was the Draft Larry Kudlow movement–which contends the television personality would "put a dress on" Mr. Schumer in a debate; then there was the doubly out-of-state primary challenger; now the consummate political trickster Roger Stone has taken an interest.
The legendary conservative operative posted an item on his website, the Stone Zone, encouraging Mr. Kudlow to wade into the race.
"Larry Kudlow can make a case for economic growth at center stage in the media capital of the world," Mr. Stone wrote. "In the United States Senate, Larry Kudlow would have the bully pulpit. And make no mistake – he would use it wisely."
(Interestingly, Mr. Stone compares the enthusiasm for Mr. Kudlow to the excitment that surrounded James L. Buckley, the Conservative Party candidate who won a Senate seat in 1970, in a divided race against an appointed senator–an analog that would seem to apply to that other Senate seat.)
Mr. Kudlow isn't even a candidate yet, and Mr. Stone said he doesn't know him well, so there's no telling if the creative operative will bring his sense of humor to the race. But, this morning, there was yet another reminder of the kind of mischief Mr. Stone is inclined to make for candidates he favors: In Midtown, madam Kristin Davis–who Mr. Stone is backing, in part, as a needle in the eye of Eliot Spitzer–held a press conference to announce she's mounting a run for governor.