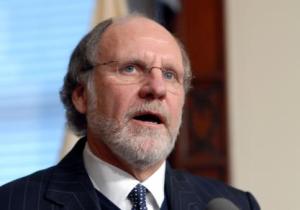 Former Gov. Jon Corzine has not gone quietly, not that current Gov. Christopher Christie has let the public forget him.
Virtually every time Christie announces a new budget fix in response to a problem that he pins squarely on the previous administration, Corzine aide Josh Zeitz has a response ready to go.
Two Democratic senators, one a former acting governor and one former Corzine running mate for lieutenant governor, agree that Christie ought to stop criticizing Corzine. But they differ whether Zeitz needs to be so zealous in defending his legacy.
"History is going to defend Jon Corzine's legacy," said state Sen. Loretta Weinberg (D-Teaneck), who counted Corzine as a friend in her battles with a Bergen County Democratic party boss and, in the aftermath of July's massive corruption sweep, became his candidate for lieutenant governor.
Nevertheless, Weinberg said she does not blame Corzine for speaking out through his spokesman. She does not think it will hurt Democrats, even though post-election public opinion polls show Corzine to be unpopular.
"I don't think it makes much difference one way or the other. If we're talking about the residents generally, they're worried about getting a job, keeping a job, paying their taxes and education their kids," she said.
Weinberg said that Corzine would be remembered as a champion for the children and the poor who doesn't need to "feel defensive about his program of giving children educational opportunities through pre-school, of insuring residents through family care."
State Sen. Richard Codey (D-Roseland), the former acting governor who was known to privately clash with Corzine, did think that Zeitz should pipe down.
"If I was [Corzine's] spokesman, maybe I would say 'The election is over,'" he said."His legacy will be established over the years, as people reflect and look back. I think you see that with any president or governor. To say just what his legacy is just after his term has ended and he's lost reelection is wrong. I think in time people will see him as a good and decent man who always tried to do what was right, and I say that from the heart."
Codey said that Christie knows its "good politics" to blame the state's fiscal mess on Corzine.
"There's nothing Jon Corzine did to bring about a national recession, but I think the Governor does a very good job of creating good versus evil,' he said. "But I think he's got to move on from criticizing his predecessor."