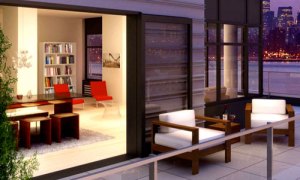 As the friendly locals will happily explain, Long Island City isn't actually in the middle of nowhere. It just feels that way.
It's only one subway stop coming from Manhattan into Queens. But the first major grocery store opened less than two years ago, which is a bit rustic for city dwellers who expect instant access to bananas and toilet paper. For now, the Sage General Store offers smoked ham and cheddar biscuits and the Frontier Market is promisingly "Coming Soon."
"You're buying and hoping that the neighborhood comes up around you," said Juan Chio while touring an airy one-bedroom at 26-23 Jackson Avenue with his wife, Marnie. A 10-minute walk from café-lined Vernon Boulevard, it's still easier to buy a used car around here than a carton of milk.
Before the city started rezoning parts of the area in 2001 to promote residential development, Long Island City was known for the wooden shops and low-rise warehouses that most deem rough and brokers might call "charming." But lately it's hard to see the old buildings through the gleam of new condo buildings.
Saturday's open houses attracted a real estate-savvy crowd, the kinds of people who comb the listings and will provide detailed analysis of market trends whether or not you ask. "They do their homework," broker Adrian Lupu said of the buyers he encountered especially in the winter months. "They go all over the place and weigh their options."
A one-bedroom condo in 26-23 Jackson Avenue, with floor-to-ceiling windows and solid wood floors, goes for about half a million. Mr. Lupu said he's shown units to almost 40 groups a weekend. About a third are singles, and the rest are mostly couples looking for space to start a family.
After the newlywed Chios both turned 30 this year they decided buying a condo was the grown-up thing to do. Mr. Chio sells co-ops in Manhattan. "But you need real money to be looking at something there," he said.
They're weighing Long Island City against more conventional up-and-coming spots in downtown Brooklyn and south Harlem. But they see more room—literally—for development here. "It's a good feeling when five, 10, 15 years down the road you're gonna make money as an owner," Mr. Chio said.
Peter and Rebecca Wolf, a couple in their 50s who currently live on Long Island (without the "City"), also looked in Harlem before signing a contract for a two-bedroom in 26-23 Jackson last month. "It's not as energetic" Mr. Wolf said of Harlem. "There are young people moving in here."
Ms. Wolf added: "At least here you have a mini view." They can't wait to watch the Fourth of July fireworks in Manhattan out of their condo's window.
Head farther back toward the waterfront, at Hunters Point, and you no longer need to squint or wait for a national holiday to get a view of the Empire State Building. There's also a handful of nice restaurants and a cluster of shiny condos.
"Long Island is developing into a neighborhood," said Julissa Velez, at the L Haus condo on 49th Avenue, two blocks from Vernon Boulevard. Here futuristic kitchen appliances, floating bathroom sinks and a huge common patio are available for around $500,000 for a one-bedroom. "People are taking their time before buying," Velez added. "That spells longevity."
At the only green-certified condo in Queens, at the Solarium 5-43 48th Avenue, most of the couples coming in have been pushing strollers and looking for space, according to broker Rick Rosa. He moved here from Miami about a decade ago, when the only appeal was a backyard. "It was a big culture shock," he said. "I hated it for the first year." Now he's so at home he calls it "L.I.C."
For families that crave space, the building has a lot of two-bedrooms, which start around $700,000 and hit almost $1 million on the upper floors. The designer is into feng shui, according to Mr. Rosa, which might explain the spare layouts. If nothing else, the wind turbines planned for the roof should get the chi flowing.
Of 200 people who have come by since Mr. Rosa started showing the condos in January, 80 are from the neighborhood and 51 are from Manhattan. (Yes, he's counting.)
Perry and Paula Salat are renters in Long Island City. They've been going to open houses for the last three years and by now have first-hand knowledge of almost every condo building in the area. "Here you can see the Manhattan skyline," said Ms. Salat, an art director at a real estate firm in Manhattan. "But you're not in it."
The couple, in their 40s, say many of their friends who started renting in the neighborhood have bought property in the area by now.
"It's like they're leaving the dorms and getting adult houses," Mr. Salat said. "But we're still playing the waiting game."