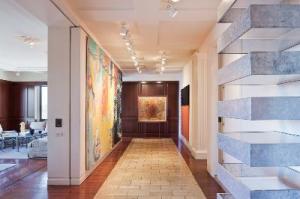 On April Fool's Day, Corcoran power broker and Rolls Royce rider Sharon Baum listed the late Jerry and Emily Spiegel's art-studded, full-floor abode at 2 East 88th Street for $17.5 million. But Ms. Baum is nobody's fool: According to the Web site Streeteasy, 13 days after going on the market, the 11th-floor, Park-view apartment went into contract. And rumor has it there were at least two bidders and it went for over the asking price.
The petite and exclusive co-op lounges Siren-like in the Guggenheim's honeycomb shadow on the corner of Fifth Avenue and 88th Street. The 13-apartment, 14-story building was built by Shelton, Mindel and Associates as a private residential gallery for luxury loving contemporary art collectors. Jerry Spiegel, the Long Island strip mall mogul who put Hicksville on the map, and his culturati wife, Emily, faithfully upheld that tradition.
According to one broker with knowledge of the apartment, the couple, avid patrons of the arts who served on the board of the Museum of Modern Art, converted the four-bedroom family apartment into a two-bedroom better suited to display their neighbor-caliber art collection, which included contemporary art cornerstones by Donald Judd and Ellsworth Kelly.
Key-Ventures' A. Laurance Kaiser IV sold the Spiegels the apartment over a decade ago and told The Observer, "It's a very contemporary, very exciting apartment." The Corcoran listing described the apartment with slightly more pomp as a "distinctive property with an exceptional provenance" and 180 degrees of "unparallelled and dramatic vistas of Manhattan" including the Reservoir and the Central Park West skyline. The originally 12-room apartment has "special mobile walls" that can be opened and closed for entertaining or art storage; and the apartment's custom design work includes, "limestone, coffered ceilings in a gridwork pattern and a stained cherrywood herringbone 'yellow brick road' floor in the gallery."
Soothsaying Brown Harris Stevens broker, Kathryn Steinberg, noted of the sale, "It just shows that for the good family apartments people are waiting and ready to buy."
Ms. Baum did not return requests for comment.
cmalle@observer.com