These maple saplings—deemed "irresistible" by the artist—were harvested from a nearby prison. Topping out at 70 feet, this instillation at the Decordova Museum in Lincoln, Mass., was built in 1990.
George Vasquez
Be It Ever So Humble (1999), a 24-foot-high Palladian stick villa, was built at the College of Art in Savannah, Ga.
Star Kotowski
Saplings from strawberry guava, considered a weed in Hawaii, and rose apple, whose fruit in no way resemble apples, are woven to form a 30-footer at the Contemporary Art Museum in Honolulu.
Paul Kodama
Mole and Ratty will live happily ever after at Toad Hall, woven from willow saplings—what else!— in 2005 at the Santa Barbara Botanic Garden.
Nell Campbell
Childhood Dreams (2007) turns ominous at the Desert Botanic Gardens in Phoenix.
Adam Rodriguez
Summer Palace (2009), at the Morris Arboretum at the University of Pennsylvania, fits any childhood fantasy, wicked witch not included.
Rob Cardillo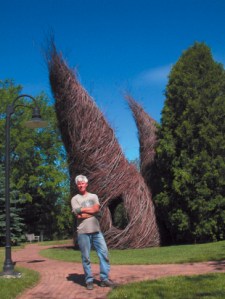 Not only are Patrick Dougherty's sculptures 100 percent non-toxic—no paint, no metals, no animals suspended in formaldehyde—they will eventually go back to the earth whence they sprang, as a composted pile of saplings, leaving no trace behind.
Mr. Dougherty, a mild-mannered, boyish-looking 65-year-old has built more than 200 stick sculptures since 1988, but this is his first New York City commission. Scot Medbury, president of the BBG, looks on the commission, part of the Garden's centenary celebration, as "an exhibition that is uniquely ours, with plants at its core," and plans to site it in the Plant Family Collection, the sweeping landscape that, no coincidence, happens to be highly visible from the Terrace Cafe, a popular eating spot.
Garden visitors can watch the nest take shape on August 1, when a rotating team of volunteers will begin the giant weave under Mr. Dougherty's direction. A tractor-trailer load of "weed trees" harvested from different sites in the New York area will be built into a unique sculpture that "fits the site and has the right scale," according to Mr. Dougherty. Each of his creations, for institutions and those lucky private clients, is unique and site-specific, but all are handmade laboriously over a three-week period using techniques heretofore known only to birds and beavers. Mr. Dougherty admitted "the base at the bottom is hard to do," but the morning and afternoon teams of three or four volunteers will find the rest "easy"—assuming they'll be wearing prickle-proof gloves and have full-up Nalgene water bottles at the ready! Visitors to the garden will be able to ask questions and observe up close, as Mr. Dougherty considers the building phase just another aspect of his creative process.
The stick sculpture will live in the garden for one year, with no special attempts to prolong its existence by propping it up with nails, screws or Krazy Glue. Visitors will have complete access to it until the garden staff feeds it into its new Morbark Wood Hog, which will grind it down and send it to the compost pile. An ignominious end to what will have been, for a brief time, a fantasy shelter made of sticks and dreams.
nbutkus@observer.com