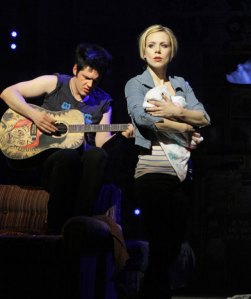 I wish I could tell you I loved American Idiot. It looks good; it sounds good; it features a talented and hardworking cast; and, most excitingly and unusually, it appears to be drawing an enthusiastic crowd decades away from Social Security to West 44th Street night after night.
But I can't. American Idiot—the rock opera version of Green Day's 2004 pop-punk album, which opened at the St. James Theatre yesterday—is an energetic and entertaining 95 minutes. It's fun. But it's also, amid all the booming rock, a little dull. You're diverted, but you're not moved. There are archetypes and themes, but there aren't really characters or a plot. American Idiot is a concert; it's not a play.
That's not a dismissal of rock music on a theatrical stage. The Who's Tommy, the 1993 Broadway production of Pete Townshend's 1969 double album and the ur–Broadway rock opera, featured fully (if, granted, ridiculously) developed characters and a detailed plot. Spring Awakening—staged by Michael Mayer, who also directs American Idiot, and with music by the indie rocker Duncan Sheik—told a tragic and deeply affecting story. At the Public Theater right now, Alex Timbers's Bloody Bloody Andrew Jackson uses Michael Friedman's emo-rock score to reintroduce us to the seventh president and make his life relevant to today.
Here, through Green Day songs from both the title album and others, we're presented with three friends in what appears to be a suburban Anytown U.S.A. trying to figure out what to do with their lives in a post-9/11 world. (The Playbill doesn't list a time and setting, but an opening voice-over mentions North Korea's nuclear detonation and name-checks Dr. Phil and Angelina Jolie.) It's a media-saturated era—the impressive and towering upstage wall is covered with black-and-white news clippings and propaganda posters and dotted with a dozen or two flat-screen TVs, which play images of Dick Cheney and corporate logos and Abu Ghraib—but these kids, they sing, don't want to be American idiots, "one nation controlled by the media."
Johnny, played by John Gallagher Jr., who was Moritz in Spring Awakening and continues to do an incomparable job with angry, explosive teenage disaffection, heads to the big city, where he finds woman and heroin. Tunny, played by Stark Sands, goes off to war, where he finds women and loses a limb. And Will, played by Michael Esper, stays home with his pregnant girlfriend and his bong, where he doesn't seem to discover much but manages to lose the girl. They all end up back home, wounded and presumably wiser, in time for the finale.
At least, I think that's what happened. Without any book scenes, any exposition or choreography from Steven Hoggett as cleverly narrative as what he did for Black Watch, it was tough to tell. The Green Day obsessive I brought with me was rapt, but, as she admitted later, she knows every word to every song, so she followed every nuance. The less initiated—and I don't dislike Green Day; I was just never a huge fan—are left to watch a music video and attempt to deduce a story. It's a noble effort and not a bad way to spend a night. But, in the end, I did not have the time of my life.
A FEW BLOCKS UPTOWN at the Longacre, meanwhile, the revival of La Cage aux Folles is showing that simply doing the same old Broadway thing—when doing it affectionately, accessibly, movingly and joyfully—can produce a thrilling night of theater. This La Cage, a Menier Chocolate Factory production starring Kelsey Grammer as Georges, is perhaps the best musical I've seen all season.
La Cage aux Folles was a 1973 French play that became a 1983 musical that became the 1996 movie The Birdcage. It's about a long-partnered gay couple who run a down-at-its-stilettos nightclub on the Cote d'Azur—Georges is the owner and emcee; Albin is Zaza, the star—who together have raised a son, the product of Georges' one-time, one-night fling with a chorus girl. ("The opportunity presented herself, and I thought, 'Why not? Everyone talks about it so much. I might as well see what the fuss is all about.") That son, Jean-Michel, is now grown and engaged to the daughter of a right-wing, family-values politician, who's coming for dinner and from whom the truth must be hidden. Hijinks ensue, as they must, and love prevails, as it also must.
The play has its problems: There's no reason why Jean-Michel—who has spent the first act and a half cruelly insisting that Albin, who raised him, be absent himself for the night—should suddenly stand up for his fathers; and there's no reason why Jean-Michel's fiancée, Anne, who doesn't and can't know the truth, suddenly defies her own reactionary father and supports the good guys when the truth comes out.
But what Harvey Fierstein's Tony-winning book lacks in structure, it more than makes up for in humor and warmth. Jerry Herman's score, also a Tony winner, contains several stirring anthems: "I Am What I Am," "The Best of Times," the lovely "Look Over There." And director Terry Johnson's production, which transforms the big Longacre into a très intime night at the titular club, is simply gorgeous, beautifully designed (by Tim Shortall), costumed (by Matthew Wright) and, especially, choreographed (by Lynne Page).
Mr. Grammer—resplendent as the curtain rises in a purple, crushed-velvet tuxedo jacket, frilly pink tux shirt, and, most surprisingly, hair—has all his usual affected mannerisms, and they work wonderfully here portraying an aging, controlling queen. He's even got a passable voice. Douglas Hodge, an Olivier-winning Pinter specialist new to New York stages (and, presumably, drag), is vulnerable, charming and genuinely hilarious as Albin.
From the breathtaking opening number—with the drag-queen chorus boys, the Cagelles, singing and posing in red-lit silhouette—to Hodge's devastating "I Am What I Am" at the close of Act I to the slapstick farce of Act II to the touching Georges-Albin kiss that closes the show (moving in 2010; daring, I presume, in 1983), La Cage is continually delightful and also continually eloquent: Being who you are, and being loved for it, is what matters, not any moralist's labels or standards. The best of times is—well, you know.
editorial@observer.com