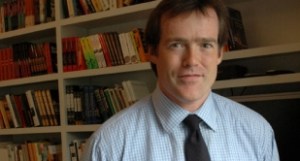 This weekend, the Guardian profiled Andrew Wylie, agent to the likes of Salman Rushdie and Philip Roth.
Included are all the familiar elements of the Andrew Wylie legend–the legendary estates, the nickname "The Jackal," the youthful bad poetry and time with Andy Warhol–but this time, however, Wylie also reveals the succession plans for his empire:
After a generation in the business, he insists that "the Wylie Agency is not about one person. It's a matter of 50 people. The succession is all arranged. Scott Moyers in New York and Sarah Chalfant in London. I want people to understand that we [the agency] will be around after my demise."
That appears to be a distant possibility: at 62, Wylie is going strong.
Also, in case you were wondering:
He concedes no interest in music or food ("it's just fuel"), and: "I don't go to books for sex. I go home for sex."
Now you know.