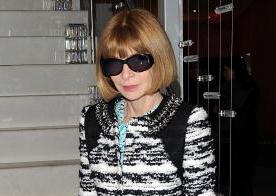 Speaking at Pratt last night, Anna Wintour addressed Vogue's place in the burgeoning fashion blogosphere. Basically, it is charming that so many people like to play fashion writer, but at the end of the day Vogue knows best.
Quoth Wintour, according to The Cut:
We love as much coverage of fashion as possible. We don't care at all where it comes from, and we embrace bloggers and video and social networking, and anyone that's talking about fashion is a good thing. And we now have our own website that incorporates all of that. But I think what's interesting to us with this new phenomenon that 'everyone's a fashion editor, everyone's a fashion writer' is that all of that actually helps Vogue, because we have access and the understanding of fashion that, forgive me, but maybe some bloggers and some of the newcomers to this world have a little bit less experience of, but as I said, the more the merrier. We embrace it.
It takes expertise to shoot Karlie Kloss leaping in front of a gray background month after month!
In any case, the democratic rabble certainly helped attendance: Pratt staff told Fashionista that they'd received 2,500 RSVPs for 504 seats.