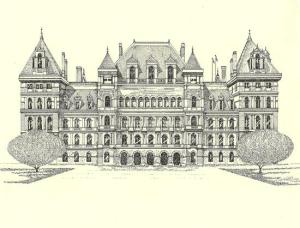 A reader pointed out to me a smart, new blog obsessing over state politics.
The site is called Nec Temere, Nec Timide, which translates from Latin to mean "Neither rashly, nor timidly." Sort of a pre-partisan mantra for mainstream reporting, if you will.
The writers of the site say, "A big part of the problem in Albany nowadays is the lack of civility. Please engage, but do so with style."
Today, they wrote in opposition the Senate Democrats plan for property-tax relief, saying there's no way to pay for it (which Michael Bloomberg said also).
Of particular fun, though, was an April 13 item about how Andrew Cuomo's economic policies may differ from his fathers.
NT2:
Andrew Cuomo will announce for governor soon. Word is that his announcement could come any day now. Before he declares, we encourage him to think carefully about what he really stands for.
Nowhere is this more important than with regard to economic policy. Cuomo is his father's son. He's the heir to a legacy. On one level, this is a very good thing. On another, it is a source of concern.

Here's the affirmative aspect: Andrew would do well to follow his father's personal example. Yes, Mario was argumentative and thin-skinned at times, but he was also a truly honorable man. He believed in public service. He had a clear vision of what he thought ought to be done. And he had a conscience, which is a rare commodity in pols today.

Here's the concern: This is not the 1980s. Mario's philosophy of government, particularly his economic policy, is not appropriate today. The essence of Cuomo-ism was that government should be actively involved in trying to improve people's lives. Mario believed that spending on government programs was an investment in the future. He called it "progressive pragmatism" and much of what he did was beneficial, but he's also responsible, at least in part, for creating the tax-and-spend monster that is New York State government. Actually, he didn't create it, (Rockefeller did), but he certainly fed it and nurtured it to the point where became an uncontrollable beast.
It's now up to his son to try to gain control the beast. Can he do it? Is he even inclined to do it?

Some signs are encouraging. One is Cuomo's work as Attorney General. His office's pension probe, the placement agent probe and his report on the need for consolidation of local government, all speak to a clear understanding of the critical need to reign in state spending. Another encouraging sign is the fact that Cuomo, to the extent that he has spoken out recently on the state budget, has said the right things about the need to do more with less.

But other signs are curious to say the least. Cuomo is surrounding himself with interesting people. They include old Cuomo administration hands, Spitzer's former budget director and a top union operative. These are all quality people – but their worldview, unless it has changed, is decidedly liberal. And how does the Andrew toe the fiscally conservative line that New York needs today with such people running the show?

Starting with his announcement, Cuomo needs address this basic question: What will the new Cuomo-nomics be all about?