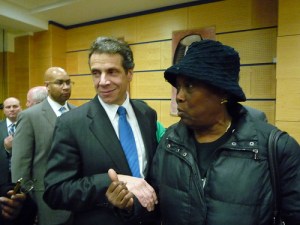 Andrew Cuomo's campaign is, publicly at least, not a gubernatorial campaign.
In two ads seeking interns, volunteers, and help with phone banking, Cuomo's campaign says they're working to "Re-Elect Andrew Cuomo Attorney General in 2010."
Right. But the ads are a sign that Cuomo's political operation is gearing up for action, which most Democrats, Repubilcans, and political reporters have been waiting for.
Anyway, here are the ads, from JobsThatAreLeft, which hit my inbox a few minutes ago:
ANDREW CUOMO 2010

The Campaign to Re-Elect Andrew Cuomo Attorney General in 2010

**IS SEEKING CAMPAIGN INTERNS & VOLUNTEERS**

Responsibilities include assisting with fundraising operations and various other campaign tasks.

No compensation available, but for the INVALUABLE experience of working on a reputable and robust state wide campaign.

Must be able to begin working as soon as possible!

To Apply: Please email your Resume and a description of your availability to Ryan Naples at [redacted]@AndrewCuomo.com

Internship located in our downtown Manhattan campaign office.

Please contact Ryan Naples with any questions at (212) 238-#### or [redacted]@AndrewCuomo.com.
And this:
The Campaign to Re-Elect Andrew Cuomo Attorney General in 2010

**IS SEEKING INTERNS & VOLUNTEERS FOR PHONE BANKING PURPOSES**

Phone Bankers will assist with fundraising calls for the campaign.

No compensation available, but for the INVALUABLE experience of working on a reputable and robust state wide campaign.

Must be able to begin working as soon as possible!

To Apply: Please email your Resume and a description of your availability to Ryan Naples at [redacted]@AndrewCuomo.com

All phone banking is located in our downtown Manhattan campaign office.

Please contact Ryan Naples with any questions at (212) 238-#### or [redacted]@AndrewCuomo.com