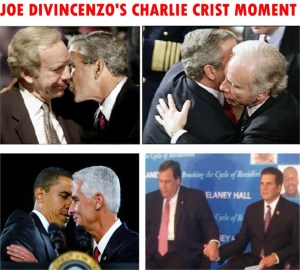 Essex County Executive Joseph DiVincenzo is catching some heat from Democratic leaders for saying that he agrees with newly-elected GOP Gov. Christopher Christie 95% of the time. The ringing endorsement comes just as Democrats are trying to challenge Christie on his budget proposals, and as Christie battles state and local teachers unions – one of the core elements of the Democratic base vote in New Jersey. In addition to his comments, DiVincenzo was photographed holding hands with Christie – an innocent moment that occurred at the request of a clergyman delivering a prayer. Making things more interesting is that Assembly Speaker Sheila Oliver (D-East Orange) works for DiVincenzo as the Assistant County Administrator.
One operative suggested that Democrats can gripe all they want about the Christie-DiVincenzo friendship, but that had every Democratic organization delivered the way Essex did last year (Christie received 28% of the vote), Jon Corzine would still be governor.
DiVincenzo is unopposed in the June Democratic primary and is expected to coast to re-election in the general election, but his comments could haunt him later on, much like hugs between Joseph Lieberman and George W. Bush, and Charles Crist and Barack Obama.