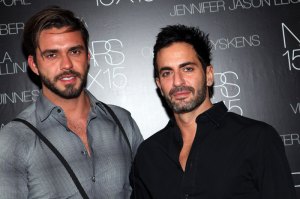 This overcast Monday morning, the Daily Transom arrived at work to discover tragic news from the weekend: Marc Jacobs and husband Lorenzo Martone may have split according to Page Six.
The gossip seems to stem from the wedding of Robert Duffy, Mr. Jacobs' longtime business partner, in Provincetown last week where Mr. Jacobs was the best man and Mr. Martone was suspiciously absent. But then there is also this: "They've both been telling people that they broke up," an unidentified friend of the couple said. Mr. Martone is allegedly planning to move out of the couple's apartment in Chelsea.
Both Mr. Jacobs and Mr. Martone declined to comment, which might be an answer in itself.
The news comes just a few months after a profile of Mr. Martone in New York which referred to him as "The first husband of fashion." In the article, when asked what the designer likes about Mr. Martone, Mr. Jacobs said:
"Well, I just saw someone who was, like, really wonderful and fun and interested in so many things. Lorenzo has this amazing curiosity and he has this really beautiful and genuine, authentic love of people. Almost like a child. Over the years, again for a lot of different reasons, I became … I don't know if jaded is the right word, but I don't really like being in social situations. But then when I met Lorenzo and I got to enjoy things that I used to enjoy through the eyes and the enthusiasm of someone else … "
The couple went public with their relationship at the Costume Gala in 2008 and married in St. Barth's on New Year's Eve.