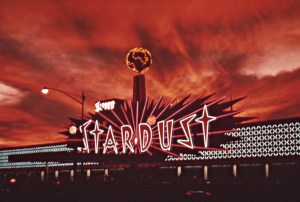 It's not an overstatement to say that the publication in 1972 of Learning From Las Vegas turned the architectural world on its head. Four years earlier, newlyweds Robert Venturi and Denise Scott Brown had rounded up a handful of their students at Yale School of Architecture and, in what was to become one of the most famous school trips ever, took them to study Sin City.
They tackled the vernacular architecture of the sand-bitten Nevada resort town with intellectual rigor. They analyzed the length of the Vegas strip, with its drive-in churches, billboards and neon signs, as they might a Gothic cathedral, without endorsement of its moral values but awe at its design. In the book that resulted, they (with coauthor Steven Izenour) wrote that the strip challenges an architect to take a "positive, non-chip-on-the-shoulder view."
It "was a breaking of taboos," said curator Martino Stierli. "Learning From Las Vegas was at the center of architectural debates throughout the 1970s and '80s." Mr. Stierli, the co-curator of a Los Angeles exhibit of photographs and films from the Venturi, Scott Brown and Associates archives, said in an email, "It introduced issues such as the everyday, the ugly and ordinary, the vulgar as well as social issues into architectural discourse."
The Los Angeles Museum of Contemporary Art brings together about 80 of those photos at its Pacific Design Center satellite. The photographs, and the photographers, make the case that Vegas design was essentially as valid, as informative and, even, as beautiful as some of what was considered great architecture.
The show originated in Bellpark, Switzerland, and has already toured Germany and the Yale School of Architecture Gallery. It is in L.A. through June 20.